Bowling Party Invitations
Find some of the coolest handmade invitations for your next party in the Make Your Own Invitations gallery.
Bowling party invitation ideas
Bowling pin invites - cut out the shape of a bowlin pin from white construction paper. With a red felt tip pen or crayon, color two red stripes at the neck of the pin near the top. Write the party details on to the body of the bowling pin.

Bowling ball invites - Take some black card stock and fold it in half. Take a saucer and place it on the card with the edge of the saucer slightly hanging over the edge of the folded side of the card. Trace a circle onto the card and cut it out. Cut three small white circles and glue them to the top of the card like finger holes. Type your party details onto white card or paper and glue it to the inside of the card. Alternatively you can write directly on to the card with a white gel pen.
Bowling party invitation wording
We have a growing
Bowling invitation examples
Click on the invitation category to see more details. If you have made your invitations and feel the need to share them with us then why don't you show us what you've got and send them through via the submit form. We'd love to see them.
Bowling Invitations
These invites were for my son's 8th "bowling" birthday party. I made them because I like to be creative. The inspiration was bowling and my son. To make them I used card stock, and my Printmaster platinum program. Craft scissors, and sticky dots for the adhesive to stick the picture to the card. The cardstock was already folded into cards and they had matching envelopes, I found them at Jo-Ann fabrics.
Rebecca C.
Renton, Washington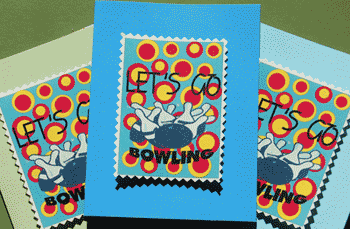 Customized photo invitations