Cocktail Party Invitations
Make your own cocktail invitations for your party or get together. Don't settle for the mediocre fillable invites that you can buy from any department store. Create something unique and original. All you need is card, scissors, glue and a little imagination.
Homemade cocktail invitation tutorials
You're Invited


Supplies:
4 or 5 Scrapbooking patterned papers from the Anna Griffin line

Cocktails fabric label also from Anna Griffin

The 'You're Invited' greeting stamp is by Stampin' Up

buttons and embroidery thread
How to make it:
Select your base card and cut a piece to measure 8.5" x 5.5" and fold in half lengthwise.

Cut up the remaining papers in different sizes and layer them onto the card as you like.

Stick the cocktails embellishment on as well as the buttons

Write the party details on the inside of the invitation or print them on to a separate piece of paper and stick it to the inside of the card.
Made by Audrey Pettit
Cary, North Carolina USA
Cocktail Invitation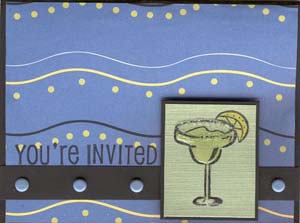 Cocktail invite
Supplies:
Patterned paper

Plain black card stock

Cocktail glass stamp

'You're Invited' stamp and color markers

two pronged brads
Assemble the card:
Take your base card and cut it to your required size and fold it in half.

Cover the front with your patterned paper which is slightly smaller than the card itself. This will create a neat black border.

Stamp the cocktail glass onto co-ordinating plain card and color if you choose. Matt it onto black cardstock (or your base card)

Cut a strip of black cardstock around 1/2" - 1" wide. Stick the stamped motif on to the strip. Insert some brads onto the strip at regular intervals and adhere the strip to the card below halfway.

Stamp the text greeting a little above the strip.

Write your invitation wording on the inside of the completed card.