Elegant Wedding Invitations
Creating an elegant wedding invitation is no easy task when you are on a tight budget. But it is certainly possible to do. With some careful planning and a bit of leg work you can come up with a design using materials that you will be more than happy with. Saving money does not mean that you can't have the best invitations.
A Golden Invitation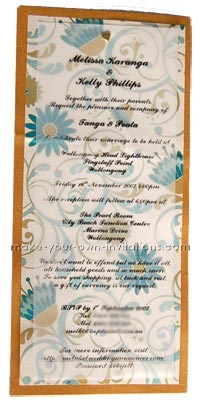 By selecting some beautiful patterned paper, coordinating colored cardstock and plain vellum paper you can create invitations like these. My friend and her husband to be made these invitations right in their kitchen.
Directions
They borrowed the use of a portable paper guillotine to trim three different papers to size and printed the wedding information on to the vellum using their own home printer.
The patterned paper and vellum were adhered to the card with a spray adhesive that you can pick up at any craft store and also the small heart shaped two pronged brad at the top.
The finishing touch on these invites is a small adhesive magnetic strip on the reverse side so that you can stick it to the fridge as a reminder of the upcoming event.
They fit perfectly into the Gold DL sized envelopes purchase separately from another store. This is one of the benefits of mixing and matching your invitation supplies.
The biggest cost involved making these invitations as with any diy project was time, so if you're going to make your own you should make sure you have plenty.