Pressed Flower Invitations

If picking flowers and pressing them sounds like something you would like to do then take a look at these beautiful handmade invitations. If you love the look but would like to cut down on the effort then just remember you can always find what you need online. Seriously, you can actually by pressed flowers on the internet. Ahhh, don't you just love surfing the world wide web...
Following long similar lines are these fall wedding invitations where nikki has preserved some leaves for her invitations. A labor of love to be sure... More wedding invitations to browse through.
Natural Wedding Invitation
A beautiful natural invitation made with handmade papers and real pressed flowers.
Supplies:
paper trimmer

tacky tape

twin

spray sealer for craft projects

pressed flowers (the flowers can be purchased from www.greetingsofgrace.com)

Handmade garden flower paper cut 10x7 (handmade and mulberry papers can be purchased from www.papermojo.com)

Ecru linen cardstock cut 5x7
Method:
I first sprayed the pressed flowers with a spray craft sealer found at my local craft shop (takes about 1 hour to dry). The flowers are delicate, so without sealing them first the small petals can break off. The invite and reception card were created and printed in black ink using MS Word and my home ink jet printer. Adhere the flower where desired onto the invite and reception card, insert the invite and reception card into the handmade paper enclosure, then wrap with twine.

Debbie Maddux-Vargas
Miami, Florida USA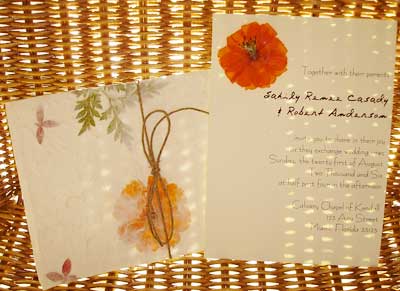 Floral Wedding Invitation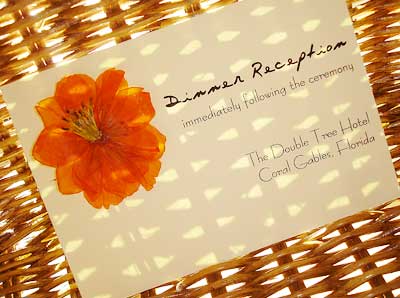 Dinner Reception Card