Hand Painted Thank You Note Samples
There are many mediums that you can use create original, personalized cards as you will see. The thank you note samples that you will see here have either been hand drawn or hand painted on to card stock or plain paper. The beauty about making your own thank you cards is that you can make them any way that you like. You are only limited by your own imagination which is a most powerful tool when it comes to making your invitations or craft projects.
Inks and paints are relatively cheap products to get your hands on. Buy some cardstock, make a simple folded card and paint your thanks on to the front. Alternatively you might try to print out a clip art image that you can get online and add some colour with your paints.
Browse through our selection of homemade thank you notes for inspiration.
Hand Painted Thank You's

These hand painted thank you cards were made on plain white cardstock, The word 'thanks' has been painted on to the cover along with a fancy border. 60 of these cards were made to thank guests for attending our wedding.
Hand made by
Bart Everson
Hand Drawn Butterfly Thank You Note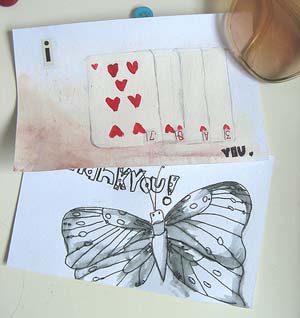 Butterfly cards
These cards were easily created through ink and water for the butterfly image. Simply drawing the outline with an ink pen then shading with a wet paint brush. The other that features a playing card motif was inspired by the way the word "love" can be written out with the numbers on the bottom/top of the cards. Collage-ing the numbers in this way I was able to create a message in a way that most people over-look this little feature in life creating a kind-of cute irony! The rest on this image is drawn with a little texture and shadow from acrylic paint.
Created By Becki Hawkes
London, England