How to Make Cupcake Invitations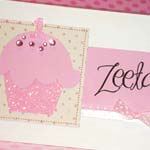 Now Cupcake invites are fairly easy to make and you don't need to buy any special die cutting tool to make the cupcake shape. You should be able to do a little freehand drawing to make the two pieces required. A simple cup shape for the bottom part and a bumpy half circle for the upper cake part. Draw on some sprinkles or some glitter and you're all set.
Let's take a look at these lovely cupcake birthday invitations that Ruki mad for her darling daughters 1st birthday.
Supplies
Bazzil card stock - in pink for the top and pink bling for the bottom (this is a glittery type of firm card)
White Card for the base
Font - Ma Sexy
Patterned papers (scrapbooking papers work great)
Ribbon - pink May Arts sheer polka dot ribbon
Bling jems
Sewing machine, scissors, glue or double sided tape, pencil
Method
Take some white cardstock and cut it to 6"x8". fold it in half lengthwise to form the base card for your invitation.
Cut a strip of the paper measuring 6"x2". Type the name of the birthday girl or boy on the right hand side (you might want to do a practise run first) Adhere the strip to the front of the card making sure it is centered (2" from the top)
Tie a length of ribbon around the card half overlapping the bottom edge of the pink strip. Knot and tie a bow at the front to the right hand side.
Cut a square of paper 3"x3". You can sew around the edges with coordinating cotton if you like. This will give your card a nicer look that isn't so 'flat'.
Hot Tip: To achieve a similar look you can ink around the edges of the square with an ink pad OR distress and roughen up the edges with sandpaper or an emery nail file. I love both these looks and either will work just as well as sewn edges.
Stick the square onto the left hand side of the card.
Print out the cupcake template on to firm card and cut out both shapes. Use these shapes as a template and trace around it onto the underside of the paper you wish to use to make the cupcake. Cut and assemble the cupcake on the square. stick it down.
Embellish the cupcake with some sprinkles. You can use anything small like gemstones, bling, beads, buttons or glitter. Hand cut the number one and stick it to the top of the cupcake.
Type your party details to plain paper and stick it to the inside of the card. If you like you can type it directly on to the card before you start to assemble it. Make sure to do a test print first.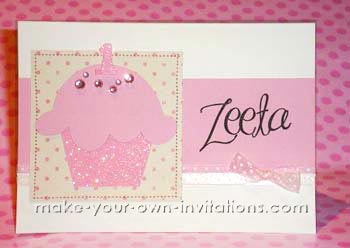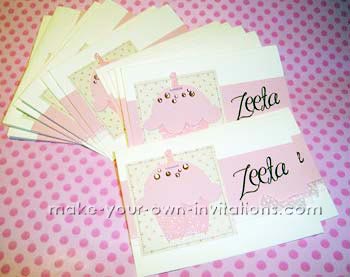 Cupcake invitation set