How To Make Pool Party Invitations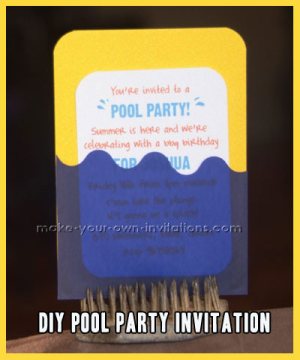 DIY pool party invitation
If you're throwning a swimming pool party for your childs birthday or end of school summer party and you need a simple pool party invitation idea then you will love these easy to make invites.
This is a DIY pocket invitation. We will create a pocket from Card and blue vellum, the vellum will create a translucent effect an looks fantastic. If you can't get any blue vellum then card will work just as nicely. An insert card will be created with the party info to slip inside the pocket. The final product is a nice and colorful invitation with hues of yellow an blue to imitate the water.
Supplies to make pool party invitation

Computer and printer (optional
scissors or craft knife
decorative scissors - wave or scallop
White Card
Yellow cardstock
Blue vellum (or card)
cutting mat
glue, pencil, ruler
corner punch (optional)

Step one

Print your pool party wording onto the white cardstock. You can use your favourite word processor program to type it up and print.

I made my text in Office Word. I made sure that the print would fit onto my desired card size which was 2½ x 3½.

Cut out the cards. You can use a corner punch to round the corners.

Step two

Cut the yellow card to size - about a 1/2" larger than your insert card.

Our card is 3¼" x 4½".

Cut a piece of vellum 3¼" wide and 2½" high. Take the decorative wave scissors and trim off the top to make a wavey pattern.

Step three

With a glue pen or glue stick, apply a thin line of adhesive to the left edge, the bottom and right edge of the vellum

Adhere the Vellum to the bottom of the yellow card.

Step four

Slip in the party info insert and there you have it. One homemade diy party invitation.

The vellum is translucent which gives it more of a water effect.

You'll notice that I took the corner rounder punch and applied it to the top two corners for extra visual appeal.
We hope you liked our make a pool party invitation tutorial. If you have a great idea for an invitation we'd love to see it. Send us an email via our contact form.
For more hot party ideas be sure to check out our other Summer party theme invitation ideas. We have some cute beach party and pool noodle ideas for you to try.