Lingerie Shower Bra Invitations
This gorgeous invitation card is in the shape of a bra and is perfect for a lingerie shower or party invitation. Laura shares her tips to make this creative card.
I searched online until I found a nice bra template that I could print and use to make my invitation cards.
Once I found and printed the template I took my Cardstock and folded it in half to form the card. I lay the bra template on top of the olded card and traced out the bra shape. Be sure that the straps of the bra are at the end where the card has been folded in half.
I wrote the invitation details on the inside of the card. If you wish you can print the details on to paper and adhere this to the insid of the card.
Then to add different touches to the bra I added multiple different types of ribbon in different layers and colors and a lovely trim at the bottom.
I finished it off with bling shapes of flowers and dragonflys.
It was the greatest hit ever.
Designed by: Laura Bass from Texas
Dragonfly Scrapbook Co. Designer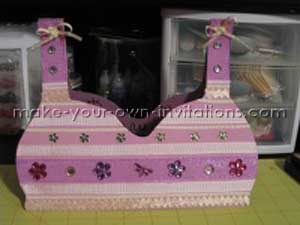 Bra Invitation Card