Make Lollipop Invitations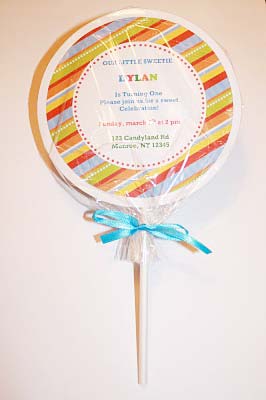 Are you having a candyland themed birthday party or just want a super sweet idea with lots of color for your invitations? You can make these fantastic Lollipop party invitations, they are fun and very easy to make. They would be great for a party at Lollipops Playland too.
Invitation Tutorial
You will need: A computer and printer, a circle cutting tool, scissors, craft knife and adhesive (gluestick or double sided tape) , stick tape, some clear cellophane and coordinating ribbon.
In Microsoft word Open up a new document and with the 'Draw toolbar' make a circle. Set the properties for your circle to have No fill and set the border to the color and thickness that you want. Our example is a red dash border at 5pt.
Create a text box on top of the circle and type in your party invitation wording. Set the properties of the box to be No fill and No line. Experiment with fonts and colors until you're happy with the layout.
Print out your invitations on to firm white cardstock. You can also print it on to the reverse side of some patterned card like scrapbook cards.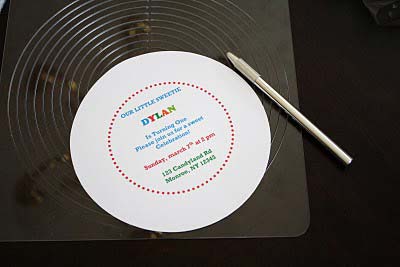 Use a circle cutter to cut out around the invitation leaving a wide margin. This is for the patterned border that will be added. A colluzle circle cutting tool was used for these invitations but you can use anything that you have on hand - a protractor, a plate etc.
Measure and cut out a ring of patterned paper to fit within the border margin. Adhere it to the circle invitation with a glue stick or double sided tape.
Glue or tape the invitation to a lollipop stick that you can find at a craft store. wrap it in cellaphane and tie a length of ribbon around it to keep the cellophane in place.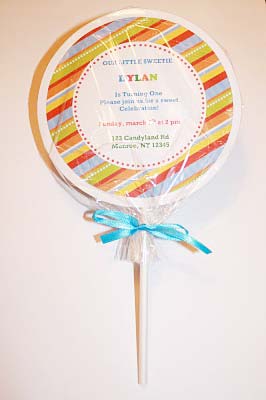 Finished Lollipop Invitations
Made by Jolaine Frias
Pretty Little Things