Homemade Thanksgiving Invitations
If you are planning to invite guests to your home this year for a thanksgiving feast then why not make your own thanksgiving dinner invitations. Your friends will love to receive special hand made invitations and you will have fun creating them. Make party invites, birthday and banquet invitations
Thanksgiving invitation ideas
motifs and clipart ideas: a Turkey (alive or cooked and ready to eat), Fall leaves, pumpkins and other harvest vegetables, pie, harvest.
Rubber stamp your invitation, you can usually pick up cheap stamps out of season at your local craft store. Choose an image to match the theme - motif ideas above.
Purchase card and embellishments from a craft store in orange, brown and yellow hues to create unique card designs.
Thanksgiving invitation wording
A few invitation wording samples that you might like to use on your invitations.
Please Join us for our 3rd Annual Dinner Party
Saturday November 25, 2008
6.00pm
The Melbourne's
1253 Happy Way
Boston, MA
Please respond by November 15
324.929.8233
Martha and John
invite you to
Thanksgiving Dinner
on Thursday, November 25th
at 7pm
address
phone number
Please join us for a
Thanksgiving celebration
Thursday 24th at 4.00pm
Abby and Joe Charleston
124 Kentucky Drive
563.236.2365
Free printable thanksgiving invitation
We have made some free printable thanksgiving invitations for your own personal use. Simply download and print on to white or other light colored card, cut and send.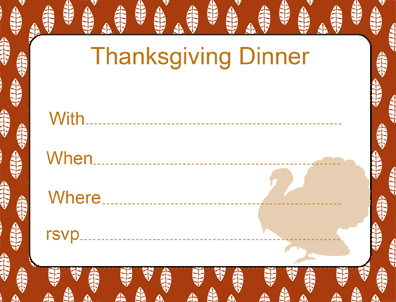 printable thanks giving invitations
Giving Printable thanksgiving cards
As well as making your own invitations for your thanksgiving celebration you can also make your own greeting cards to send to your friends and family, both near and far. Take a photo of your family together. If your camera has the option to add text to your photos then you can add a lovely caption like 'Happy Thanksgiving Day' If not then use your photo editing program to add a border or fall themed background and insert the verse that way.
Print and send the photo as it is, attach it to the front of a pre-folded card, or simply slip it into a purchased greeting card and
We have a cute range of photo cards especially for Thanksgiving. Check them out and send us your photo for a free proof.
Thanksgiving invitation Examples