Monkey Birthday Invitations
Yeehaw! It's time for a western style party and you're all invited! Browse through our cowboy and cowgirl invitations for inspiration to make your own. Take advantage of all the cool cowboy terms and stuff that you can use like sheriff stars, belt buckles, boot spurs, bandanas, guns, horses, cattle.
Monkey invitation ideas
Banana shaped invites. Cut some construction card into the shape of a banana. Write the party details on to the top half of the banana. Cut some yellow felt in the same banana shape and glue the bottom half of the felt and the card together. Now you have an invitation that you need to peel down the yellow felt peel to reveal the party details.

Cut your invitation in the shape of a monkeys head.

Purchase a rubber stamp of a monkey and an inkpad. Stamp your images onto white card and cut around the image with a pair of scissors leaving a small white border. Use this cutout as an accent for your invitations. Adhere it to the top of a flat invitation of stick it to the front of a folded invitation card. Use double sided foam tape to make it pop, you can also color the stamped image with colored pencils.

Dress the guest of honor in a monkey suit and make a photo invitation.
Monkey invitation Wording
Use some of the wording samples and phrases below for you party invitations.
Lets go bananas at
Georges 3rd birthday party
Swing on over to his house
124 Hudson Road
Saturday, June 15th at 12pm
rsvp by June 7 to 123.456.7896
**
Monkey See, monkey do
Our little monkey is turning two

***

Our little monkey is turning one
so swing on over, let's have some fun

***

Lets go bananas and have some fun
our lil monkey is turning one
Come monkey around with us
Max is turning five
Monkey on over
oooh oooh, eeee eeee, aaah aaaah
Monkey Invitation Examples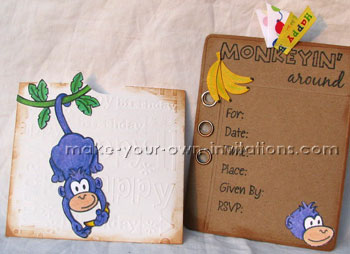 Pocket invitation
I made the sleeve for the card out of an invitation size envelope sealed and cut down to size. I then embossed the cut embossed the envelope with the Birthday Cuttlebug Embossing folder. Ink the edges with distress ink in tea dye. Color Monkey stamped image (by Stampendous) in. Cut out the image and attach to front of sleeve you just created.

The card insert was created using Kraft cardstock and the Cuttlebug Embossing folder called Journaling card. I then cut around the embossed image. Ink edges with distress ink in tea dye. Punch 3 holes on the side of the card and attach 3 grommets. Stamp Monkeyin' Around (stampendous stamps) at the top. Stamp the Invitation image. Attach ribbon to the top of the insert. Add bananas and a stamped and colored in image of one of the monkeys heads (stampendous stamps).
Handmade by Jenn K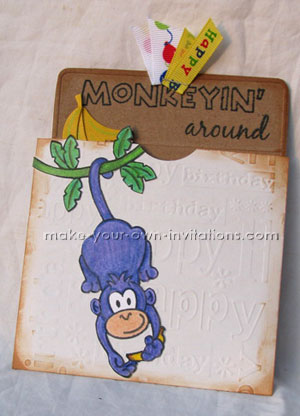 Related Links
monkey baby shower invitations
pocket invitations
Return from Monkey Birthday Invitations to see more kids birthday invitations