Make Name Day Invitations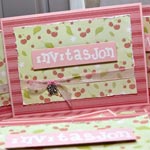 Ida Melby shares these wonderful Homemade pink invitations that she made for a naming day celebration. She calls them clean and simple (C&S) invitations. She also put together some fantastic diy table cards for each of the party guests (around 20 in total) Of course they coordinate perfectly with the invitations which is one of the best advantages of making your own party invites and decorations.
Clean and Simple (C&S) Invitations
Material list:
Pink card stock (Bazzill)
DCWV Nursery-Girl design paper
Pink ribbon
Angel metal charm
White embossing powder
Stamp - Invitation
Tim Holtz Paper distresser (tool to make torn edges on the paper)
Embossing ink (Blank - See threw)
How to make the invitation
Cut the pink card stock at 15,2cm x 11cm (fold in half)
Cut the striped paper at 10,5cm x 14,7cm
Cut the cherry paper at 8,5cm x 12,5cm
Cut the invitation stripe (pink card stock) at 2cm x 9cm
Glue the striped paper onto the pink card stock base
Distress the edges on the cherry paper and tie the pink ribbon around it, put the metal charm on and make a knot on the front.(it might be easier to rap the ribbon around and glue on, and then cut a smaller stripe to make the knot with for the metal charm)
Glue the cherry paper with the ribbon and charm on top of the striped paper.
Stamp "invitation" on the small pink card stock with the embossing ink, pour embossing powder over the ink and blow off the extra powder. Heat it to make it permanent (with a heating gun or just holding it over the toaster to get heat on it)
Use 3D gluedots on the small pink cardstock and center it in the middle but a bit higher, leaving some space between it and the ribbon.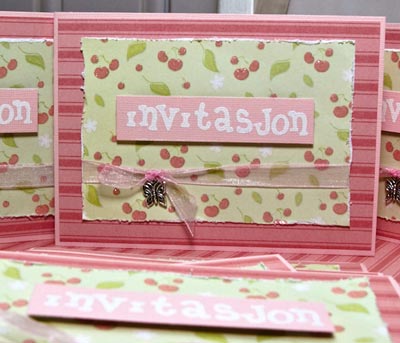 Clean and Simple Name Day Invitations
Hot Tips
If you wish to add another great touch you can gently rub a inking pad (in a matching color) in the sides of the paper to give it a more rougher look. (great if you're making these for boys)
I made these for a nameparty. I made the table cards from the scraps from the invitations. The text is printed from the PC and flowers are from my stash, but you can get these flowers any where from the supermarket to a scrapbook store.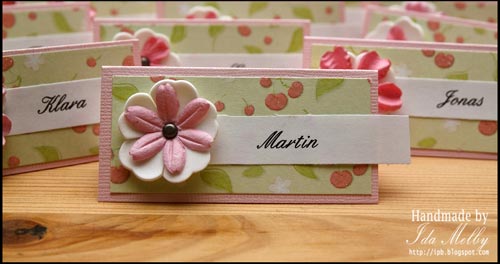 Homemade Table Cards