Pajama Party Invitations
Slumber party, sleep over, pajama party. Whatever you call it it's A girls night in and a recipe for mischief and mayhem. If you're 8 years old or 30, you are never to old to have a sleep over party with your nearest and dearest girlfriends... or boyfriends.
Slumber party terms that you may use to search for free clipart on the internet (you could also use the ideas to make a unique card shape or use a line or two in your invite poetry)
Pillow, pajamas, animal slippers, face masks, slumber party, pizza, pop corn, nail polish, hair, sleepover, night, sleeping bag, games, a face with cucumbers on eyes, fun, sleep, sing song, scary movie, celebrate, late, night ends, friends, makeup, room, giggle, have a blast.
Phrases and invitation wording
no boys allowed!
I'm having a birthday pajama party
Come over, lets celebrate!
We'll paint our nails and do our hair
and stay up until it's late
It's a pillow fight!
Get ready for a fun filled night
filled with girl talk and pillow fights
pizza, a movie
a fun pillow fight
make up and girl talk,
all through the night
Slumber party Invitation
I made this invitation for a friend whose daughter was having a slumber party for her birthday.
I made it up in Photoshop. It was fairly quick and easy to do
Main Points:
- Used the pen tool to create the pillow and colored it in white.
- I used the selection tool (oval shape) to create the shadow on a separate layer to give the invitation more of a two dimensional look. Filled it with dark pink color and set the opacity for that layer set to 54%
- I used the pen again to create a curved line and then used the text tool to type on the line. I did this for each line of text.
- The background is a very lazy pink layer with dark pink stripes made with the brush tool.
Handmade by ME
If you like this invitation then check out the free printable slumber party version.
DIY Sleep-over Birthday Invitation
This invitation is for a sleep over birthday party.
Products Used
Stampin Up cardstock
Imaginence Patterned Paper & Frog stamp
Making Memories ricrac ribbon
Glitter brads from Hobby Lobby
Font: French Script MT.
Standard card size. I used a Coluzzle to make circle behind frog and cut "flowers" from patterned paper. I Stamped the frog with Staz on ink and colored with watercolor pencils and paint brush. I Stickled the crown for a sparkly effect. Pop dotted frog & flowers. Chalk inked edges of the striped patterned paper, the flowers, and circle background.
Inside said: You are invited to Mariel's 10th Birthday Sleepover! Then date, time, instructions for what to bring, and RSVP.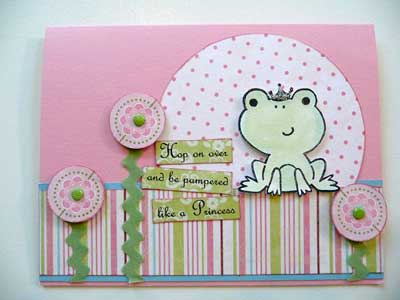 Made by Beth Hallgren
Hartford, MI USA
Return from Pajama Party Invitations to see more kids birthday party invitations