Make Pancake Breakfast Invitations
Need breakfast invitations for your morning pancake celebration? Then check out this cool idea by Katie Inglis. Just looking at this invitation makes me want to host a breakfast party of some sort, I love breakfast. Such a unique idea, I've never done a morning party before... Maybe my next birthday. Oh wait a minute, I have hosted a baby shower breakfast/brunch a few years back for a good friend of mine. Ok, enough about me, more about this invitation.
Making the breakfast invite
I began by drawing my ideas with pen and ink, concentrating on varying line-weights.
I then scanned the drawing into Photoshop where I colored it using various opacities with the brush tool.
I added a concrete and dirty stone texture layer over the image and adjusted the color and opacity to create a weathered look.
Finally, I chose a font that matched the mood of the invitation, rasterized the text layer, and texturized it with the brush tool to blend it into the theme.
Made by Katie Inglis
Philadelphia, Pennsylvania, USA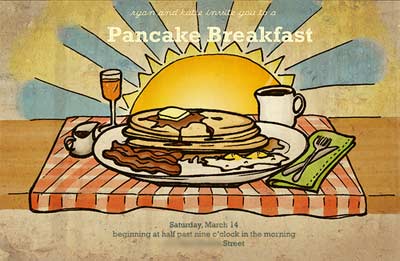 Pancake Breakfast Invitation