Photo Birthday Invitations
These invitations have a photo somehow incorporated into them by some means. Sometimes the photographs are physically chopped up with a pair of scissors and added to enhance the invitation and sometimes a graphics program like Adobe Photoshop has been used to alter or blend a photo with another image.
5th Birthday Invitation
This Invitation was created for my sons 5th birthday. My son wanted to have a scary themed party, so I came up with this. It was made entirely on the computer using Adobe Photoshop. I found a picture of a background that was somewhat bloody looking and then I masked out my son from another photograph and put him on it. I drew the tooth and the drops of blood myself. I also found an image of a skeleton and drew the bats. At his party I had made lots of paper bats and glued them onto the windows and walls. very scary ;o)
Paula
Olstykke, Denmark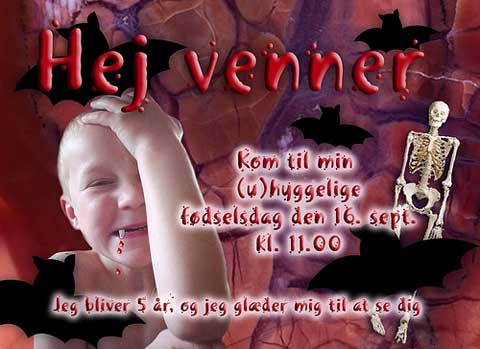 4th Birthday Invite
This is the invite I made for my sons 4 years birthday.
I took some pictures that I "cut" up in the computer. I then found a drawing with the car and put my son in it. I made all the heads bigger than normal and also the eyes and mouth on my son too. I added the numbers 3, which I tilted so it looked like he knocked it over, and 4, and drew a few lines to add speed and movement.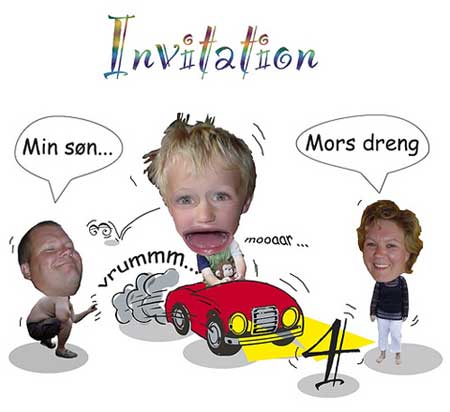 7th Birthday Invitation
This is another invitation I made my sons 7th years birthday. It is a photo of him underwater. I used Photoshop to add in some fish images.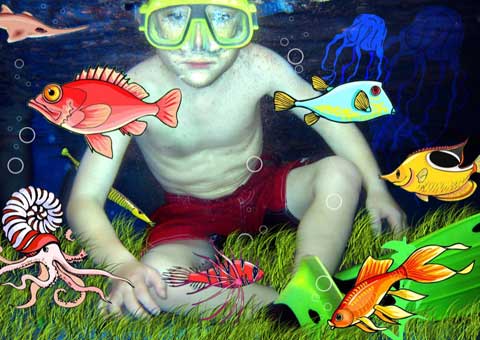 Girls 11th Birthday Invitations
An couple of invites I made for a friends daughters 11th birthday party.
Made by Heather Johnson
Martinsburg, West Virginia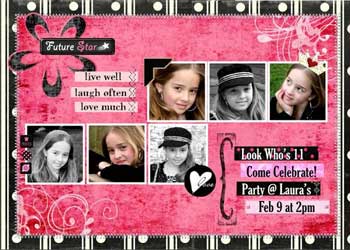 11 birthday Party Invitations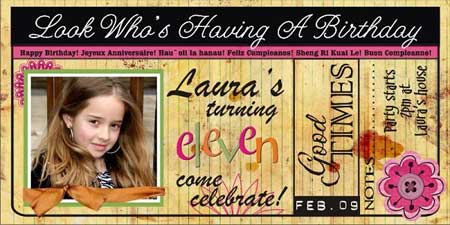 Photoshop Invitation
I used Photoshop CS3 to design the card, print size is 4"x6". I used digital patterned papers from Kate Teague and Anne Langpap, I liked the design of the papers but the colors were not what I wanted so I used Photoshop to change the colors on the pattered papers so they would work with my photo. The scallop edge photoshop brush is my own design. Once the design is done I saved it as a jpg. format and uploaded the file to Costco.com to print my invites on to photo paper.

Angelica Turner
Tracy, California USA
Return from Photo Birthday Invitations to see more Kids Birthday Invitations