Creative Photo Thank You Cards
The wedding is over, you're back from your honeymoon and now it is time to start writing and sending out your thank you cards. Many couples are opting these days to send a photo from the wedding day. This is a great way not only to say 'thanks' but also to leave your guests with a precious keepsake from your magical day.
You may send a simple photo of the happy couple or you can get a little creative and make a thank you card to remember.
If you are handy with a graphic or photo editing program like Adobe photoshop and can easily navigate your way around such a program then you might want to give this idea a go. This idea was submitted by Craig from Craig Richardson Photography. As you can see in the photograph below the bride and groom are holding cards that spell out "Thank You"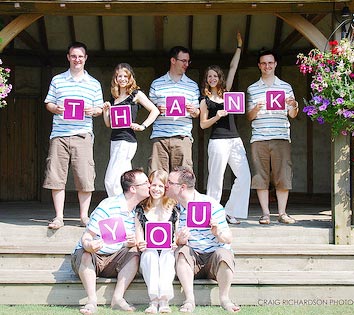 Photo Thank You Cards
How to make this photo card
You will basically need four things for this photo card. The happy couple, Letters on cards, a camera and tripod, and Adobe photoshop or a similar program like GIMP.
Step one
Ask the happy couple to make up some cards with each of the letters in the words "Thank You" They can be as creative as they like and don't need to be limited to letters on paper. You can use wooden letters that you can purchase from craft stores and paint them, colored foam letters, or you can find an assortment of vintage letters from thrift stores and curiosity shops etc.
Step two
A tripod for your camera is essential for taking the photographs. Place your tripod and camera in the best position that will enable you to fit in each of the letters. Take a series of photos of the couple in the various positions. Richard shot 6 separate images of this couple to use in the final image. T and H together, A and N, K on its own, Y and O, and U by itself.
Step three
Now for the difficult part. Load your photos into Adobe Photoshop and trace around the subjects in each of the images with the magentic lasso tool. Copy and Paste the subjects on to a separate image document. Lots of laborious work to trace round them!
Step four
Once they are cut and lined up into their positions, you will need to sort the shadows and ensure that they all matched up and looked as natural as possible.

Made by Craig Richardson
Related Links
More Photo Cards Thank You cards and other ideas.
Creative thank you photo cards.