Homemade Retro Wedding Invitations
Beautiful picnic wedding invitations made with Miscrosoft word. Catherine had already started making her invitations when disaster struck and her DIY invites were ruined before they were finished. She was sorely tempted to give up the whole 'Do it Yourself' exercise and buy some invitations from a boutique specialist but once she saw the $300 price tag she decided to give it another go.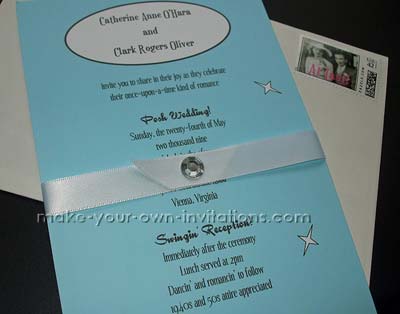 The invite was made in MS Word and printed from a home printer. It's essentially a knockoff of an invitation design by a boutique store.This DIY project turned out to be really easy, the end result is awesome.
Highlights of how I made these invites
Most of the work was done in MS Word.

I downloaded retro fonts for free from dafont.com.

MS Word 2007 has some creative shape and text box tools which made it easy for me to create the little stars and the bubble around our names. I set the background color to blue in Word, then cut white cardstock to the right size and fed it through.

I made response postcards as well, and used some clearance ribbon I had picked up a while back (with all my work with kids and festivals, I'm always checking the dollar bins at craft stores) to hold the pieces together, with a sparkly fake jewel for a little bling.

For the finishing touch, I designed my own postage stamps with Zazzle.com, using an old photo of my grandparents on their wedding day in the early 1940s.
Cost breakdown:

$10 cardstock pack
$2 clearance ribbon
$3 fake jewels (sold in packs of 55 at Michael's)
$6 envelopes
-------------
$21 for 40 invites....not bad, not bad at all!!!

I also had to replace the printer ink cartridge before I started, because ours was dying and needed to be replaced anyway- even if you ad the extra $24 in, it's still a far better deal.

The postage actually cost more than the invitations themselves.
Retro Invitation Wording
Catherine Scarlet
and
Clarke Gable
invite you to share their joy as they celebrate
their once-upon-a-time kind of romance
Posh Wedding!
Sunday, the twenty-fourth of May
two thousand nine
Swinging Reception!
Immediately after the ceremony
Lunche served at 2pm
Dancin' and romancin' to follow
1940s and 50s attire appreciated
Return from Retro wedding invitations to see more wedding invite ideas