Retro Wedding Save the Dates
When my wife Amanda and I got hitched, we knew early on that we didn't want to get ground up in the gears of the wedding-industrial complex. We decided the occasion was too special to let it turn out like all the others. You're unique, and your wedding should be too! Plus, it's nice to save money wherever possible on what quickly turn into an exorbitantly expensive afternoon. So we made our save the date cards.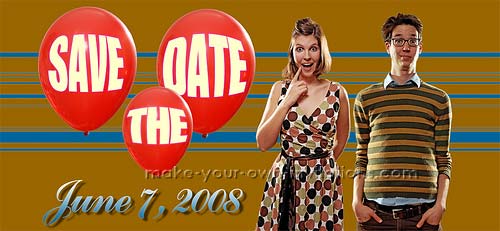 Our process was really pretty simple.
We just took some photos of ourselves, and then made the design in photoshop with simple lines in the background and some fun balloons with the wording "Save the Date" and the actual date of our wedding. We figured that was enough information for now. We also made a simple design on the back side that gave directions and information about the location and local hotels.

Stacked on top of each other you can fit three individual STD's on an 8.5x11 inch sheet.

We took the file to Kinko's and had them print out a bunch of them. We got the front printed in color, but the back in black and white, which saved us a ton.

HOT TIP: You'll be amazed how cheap it is to print these things. Kinko's seems to rely on additional services to make their money on simple printing. If you don't mind cutting the cards yourselves, and if you don't have to have them modify your file (for which they charge a ridiculous "design" fee) you're getting card stock for less than a dollar a sheet. And with 3 cards per sheet, the cost gets really low.
Our guests were all excited by the cards and it may have helped get more people to come, expecting a not-so-ordinary affair.

Made by Brandon
Brandon Dill Photography
Return from Retro Wedding Save the Dates to see more STD ideas.