Reunion Invitations
Planning a reunion of old school mates or family members. Make your own invitations with ideas from other diy invite makers like yourself.
Click on the invitation for more details
High School Reunion Invites
These invitations were created digitally using Photoshop Elements. Here are a few of the main points
The sizing for the main card was designed to fit in a #10 open ended purple envelope

The reply card was made for a #6 white envelope so that it would all fit inside the #10 envelope

All of the invitation cards were printed on basic white cardstock

I printed very light gray guidelines on each page (I had 3 invitations to a page) so that I could easily use my trimmer to cut them all apart.

I printed all of them on my home printer easily.
They were very easy to make and design. They did use a lot of the fuchsia ink obviously though. I thought they turned out wonderful and they were very well received.
Alicia
Mt. Juliet, Tennessee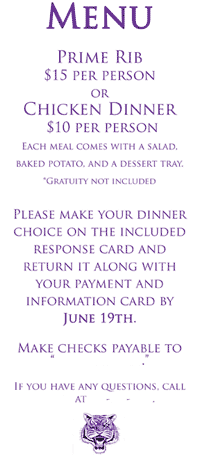 The reunion information card to be filled out and returned.
The reverse side of the information card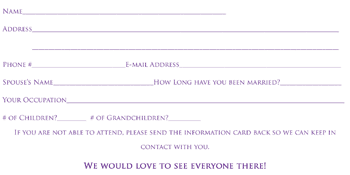 Add your Reunion Invitations to our growing gallery of invites!