3rd Birthday Sample Invitations
Pink "Natasha's Birthday"

I started with a piece of 8 1/2 x 11 sheet of cardstock, trimmed off 1/2" x 11" strip and trimmed the remaining sheet into 4 x 5 1/2 inch cards and inked the edges. I cut several pieces of leftover vellum in half - in this case, using the Cuttlebug wavy blade. I cut the vellum to fit the card and set aside. You can stitch the edges now, or wait until you have all pieces ready, ensuring everything will fit in your pocket.
For the invite portion of the card, I pre-measured the maximum size tag would fit on the card, and played with wording and font size in Microsoft Word until I was happy. In this case I used scraps of paper, but it would be just as easy to copy the text several times onto one sheet of cardstock. After printing I trimmed the tag evenly around the text, and again used the Cuttlebug wavy blade to decorate the top. I punched a hole and added fiber, particularly because this particular birthday party included making a tag book. This is an excellent way to use up all those fibers or ribbons I purchased so many years ago!
I printed the mapquest map on plain white paper, folded into 4ths, and cut a piece of cardstock just slightly bigger than the map. Make sure to adhere the back, unprinted side to the cardstock. Yes, you could print the map on CS, or simply include the map, but this took less time and allowed for a larger map. The pink cardstock made it less likely to be lost in the mail pile as well.
I laid the tag/invite and map pieces on the background cardstock, placesd the vellum over both, secured the vellum in place with paper clips, and stitched to create a pocket. I added the presents (sizzix dies, using scraps of patterned paper) to the front - you could easily leave the vellum plain, or add a flower, sticker, tag...
Michelle Voelker
Des Moines, Iowa
3rd Birthday Sample Invitations
These are some handmade sample of some invites that I made for a client for her three-year-old girl's birthday. She wanted some to be with a green and brown color combination, and then for fun I made some pink and orange samples. Which one of these invites is your favorite? They are all made with scrapbooking and card craft products (The invitation cards are Martha Stewart.)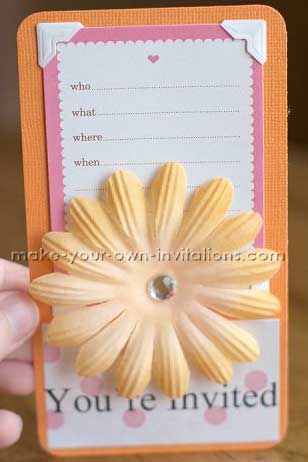 Orange Invitation Card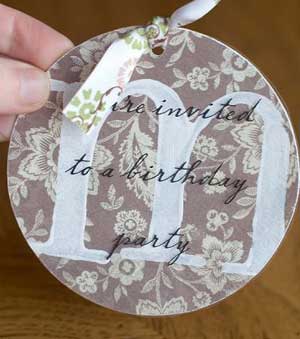 Round Invitation with 'You're invited to a party'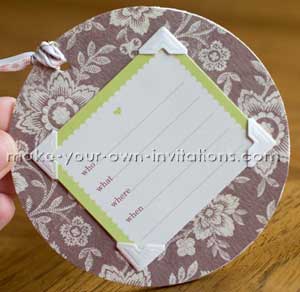 Invite details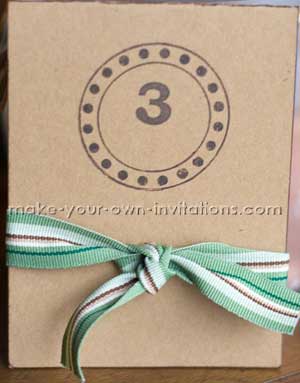 Brown invitation with a ribbon closure. The '3' is hand stamped.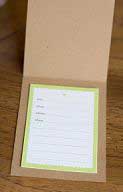 The inside with a Martha Stewart invite card.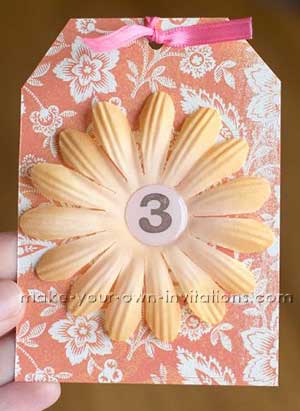 Another Orange invitation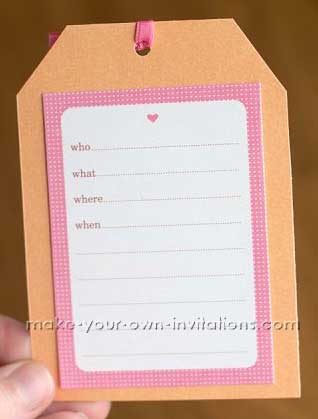 The back of the invite for the party details.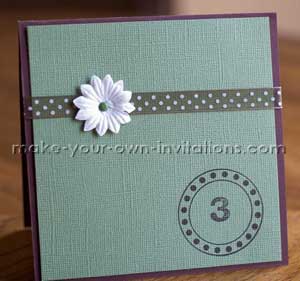 And this is the finished product - They are very different from of the sample invites that I originally offered her, but this is what she wanted.
Supplies: patterned paper - My Mind's Eye and Chatterbox, tags - Making Memories, ink - Stazon, stamps - Stampin' Up, invitation cards - Martha Stewart, gems - unknown

The final approved invitation.

Return from 3rd Birthday Invitations to see more kids birthday invitations