How to make Silhouette Invitations
Do you remember the old silhouette pictures that you used to make of yourself when you were a kid at school. You would stand up against the side of a wall with a large piece of paper temporarily stuck to it and then turn on the overhead projector to shine the light on you. While you stand there someone would trace around your shadow on the paper and create a silhouette of your head.
We're going to take that concept and use it to create unique party invitations. fortunately we don't have to find an ohp to help us with the task. All we need is a digital camera and some reliable software like Adobe photoshop or gimp.
Silhouette invitation
I made these invites so that I would have something nice to remember my daughters 1st birthday. I wanted to use the set of skills I have to do something for her.
Supplies
Digital photo of daughter side on

Computer and Adobe Photoshop software

Brown cardstock

Oval shape cutter - Making memories scrapbooking stuff

Lace stickers

Adhesive
Silhouette design
The printed piece on the inside of the card was designed using Adobe Photoshop CS4 and various fonts, brushes and graphics.
The silhouette in the picture frame on the invitation was made from a photograph that was taken about 2 weeks before her birthday party.
I traced it out in Photoshop using the pen tool. You can easily acheive the same result by printing the picture out and used a pen and some tracing paper.
Printed as photographs
The final design was printed at our local Costco as a 4x6 photo print. That was done to keep the cost down as printing photographs is very cheap.
Assembling the card
The folded card was from a set of pre-made 5x7 cards that I found at a local hobby store. Die cutting the oval window in the front was really easy with the help of the oval cutter that Creative Memories makes for scrapbooking. I borrowed that from my wife's scrapbooking materials.
I simply took the printed photograph and adhered it to the inside of the card.
The small sticker in the bottom corner that looks like lace was also another Creative Memories item. It was some sort of lazer cut border/sticker.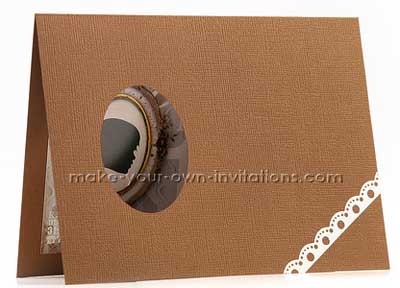 The invites took me about a day to complete since I wasn't sure how I wanted the layout to look. The cost of the complete invite averaged out to be about 50¢ per piece.
made by Jeff Portaro
www.portarodesign.us
Related links
Personalized silhouette invitations for the non-diy'er
Kids Birthday Invitation Ideas