Making Space Party Invitations
Another popular birthday party theme is a Space Party. Check out our ideas to make your own crafty space party invites.
Decorating your Space invitations
So the obvious embellishments to sut hand made outer space invites might be those things that we can readily associate with Space. Stuff like planets, moons, suns, stars, rockets, aliens, little green marshians etc.
Black or dark blue cardstock would make a good background.

Star stickers or stamps

NASA paraphernalia

Cut your invitation into the shape of a planet or rocket

Funky rocks can be passed off as moon rocks or moon dust

Sift through your old magazines and comics and cut out any pictures that you like
Outer Space Invitation Wording
Take phrases from popular science fiction movies, books and programs.
Robert's 5th Birthday

Calling all little astronauts
Meet at my launch pad, 23rd May at noon
We're blasting off to a space party on the moon

Launch pad: 185 Cumberland Rd

3...2...1...Blast off
Michael's turning 8

Launch Date: Friday, 22 June
Launch Time: 6:30 PM
Coordinites: McDonalds Space Pad, 1456 Carrington Road
Mission: To party on with Josh and all his friends.

Ryan's 4th Birthday will be out of this world

Your mission is to help us celebrate
Report to 134 Quakers Way
We'll be blasting off at 1200
on Saturday 3rd September

Space cadets
Edeline's homemade space invitation
Im a digital scrapbooker so I used my skills to create this invitation.
I purchased a space themed digital scrapbook kit called "Space Invaders" by Robin Carlton. I don't know if you can still buy this kit but you should be able to find other themes. This kit had cool robots, ufo's and rockets blasting off as well as some patterned papers which are perfect for card backgrounds.
I created a 10x15cm layout with all the different elements from the kit. I framed a recent picture of my son and added the party information. I saved it as a JPEG image and printed it out on my printer. If you want a more professional finish you can print them out at your photo lab with a matt finish. It works out to really cheap.
To make the invitation stand out I pasted it to a black cardboard (forgot the size). Then I just added the ribbons, buttons and flowers

Made By Edeline Teintang
Halmstad - Sweden
Try our custom space photo invitations that you can print yourself
Blast off to your space party with our custom made rocket photo invitations. This very cool invite will feature a rocket ship in hyper speed with your child on board peeking out the window. Take a photo of your child waving hello for a invitation to remember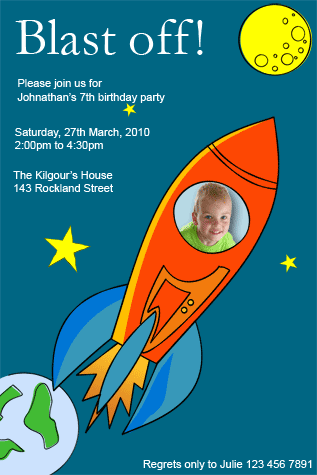 Return from Space Invitations to How to make kids Birthday Invitations