Stampin Up Wedding Invitations
I love rubber stamped wedding invitations. They are super creative and are really beautiful and classy. You can purchase lots of different stamps in a myriad of different designs, apply different stamping techniques to create a truly beautiful one of a kind, unique masterpiece. Boutique rubber stamp suppliers like Hero Art Stamps and Stampin' Up supply the most gorgeous designs as Neusinha Fusco shows us with this picture invitation tutorial of some Beach Wedding invitations that she made.
Supplies
Paper cardstock: white light blue, dark blue

Stampin Up Stamps of sea shells

Pigment inks: Prussian Blue, Celadon, Sky Gray

Scissors, craft knife, paper scoring tool, double sided tape, pencil and a ruler
Made by Neusinha Fusco
Scrapbook Always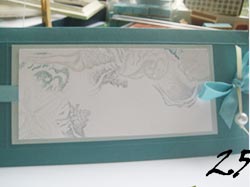 Return from Stampin Up Wedding Invitations to see more Invite ideas.