Tie The Knot Wedding Invitations
These invitations turned out the be pretty cool. We did everything ourselves from the wedding invitation design to the embossing of envelopes and mailing. My friends over at AlphaGraphics took care of the printing and cutting for me.
Since we are a little unconventional we decided that our wedding invites should be unconventional, starting with the fact that we never mentioned the word "wedding" on the invitations.
Invitation Design
The only real graphical element, the knots, was found by complete accident in an old manual that I had found. I scanned the image and did some minor clean up in Adobe Illustrator.
The artwork was imported into the layout that I had created in Adobe InDesign.
The invitation card stock and envelopes were purchased from www.paper-source.com.
Invitation envelopes
The origami paper, purchased from Michael's craft store, was cut to size, lightly glued and placed in the envelopes. The envelopes were embossed with our return address on the flap (also purchased from Paper Source). A friend of mine owns a local print shop and handled the printing free of charge.
Lessons learned while making our invitations...
We didn't put names on the RSVPs so we had to go back through and hand-number the postcards and match them up to names on a spreadsheet.

We also omited our full names on the invites. I guess we got so caught up in the fun of it that we forgot that some people might not know who the heck we are. Oh well.

Finally, definitely ensure you review and proof read your wording before sending your invitations to the printer. We noticed on our proofs (pictured above) that the word "restaurant" was spelt incorrectly.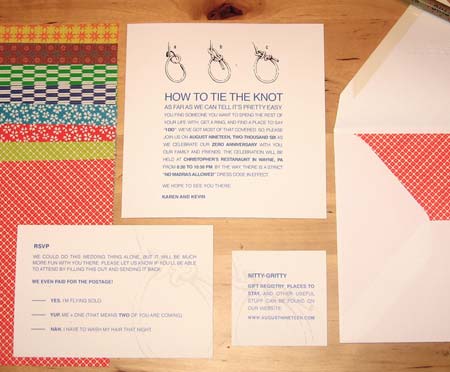 How to tie the knot Wedding Invitations Set
Invitation Wording - How to tie the knot
Invitation
As far as we can tell it's pretty easy.
You find someone you want to spend the rest of your life with,
get a ring, and find a place to say "I DO" We've got most of that covered.
So, please join us on August nineteen, two thousand and six as we celebrate
our Zero Anniversary with you, our family and friends. The celebration will be
held at Christoper's Restuarant in Wayne, PA from 6:30 to 10:30 PM.
By the way, there is a strict "No Madras Allowed" dress code in effect.
We hope to see you there
Karen and Kevin
Wedding RSVP card
We could do this wedding thing alone, but it will be much more fun with you there.
Please let us know if you'll be able to attend by filling this out and sending it back
We even paid for postage!
Yes. I'm flying solo
Yup. Me + One (that means TWO of you are coming).
Nah. I have to wash my hair that night.
Extra information insert
NITTY GRITTY
Gift registry, places to stay, and other useful stuff can be found at:
websitename.com
Made by Kevin M Jackson
www.melkindustries.com
You might also like
More cool DIY Wedding invites