Tropical Wedding Invitations
Planning a Tropical wedding on a beach far far away. I can see it now, sun, surf, relaxation and mai tais... And an 'I do' or two somewhere in between all that. These beach themed invitations will really set the tone for your seaside wedding celebration. If these invites are not to your taste then see the rest of our wedding invitation collection.
Click on the invitation to see more details.
Sand Dollar Invitation
This tropical invitation reminds me of the Bahama's. Crystal clear blue waters and a fresh breeze. It was made with a glossy white cardstock backing, bright blue plaid 1.25 inch ribbon, and a real sand dollar!
Supplies used:
Paper trimmer

Therm O Web Clear Mounting Tape

Tacky Tape

6.25 x 6.25 glossy white cardstock

6 x 6 classic white cardstock

1.25 inch plaid ribbon (I've used several different plaid ribbons in various "tropical" colors for this same invite)

1.5 inch sand dollar (you can find these great shells and more at places like www.qualityshells.com)
Assembly:
I created and printed the invitation using MS Word and my home ink jet printer in a royal blue color. I wrapped the ribbon around the first layer of cardstock adhering it in the back, then adhered the two layers of cardstock together. I adhered the sand dollar to the ribbon using Tacky Tape. This invitation should be mailed using an "invitation box" so the sand dollar doesn't break during mailing. The invitation can be placed on top of excelsior and mini sea shells inside the box for a "seaside" presentation.

Debbie Maddux-Vargas
Miami, Florida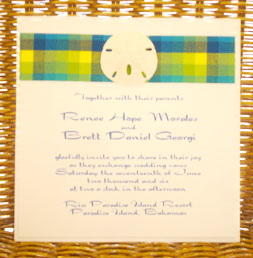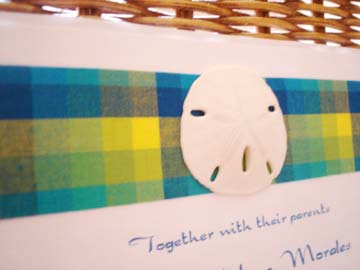 Pineapple Wedding Invitation:
A unique invitation with a beautiful embossed pineapple representing
hospitality. This invitation has a rustic feel done elegantly with gold, kraft,
and ecru linen cardstock, then finished with raffia strands.
Supplies:
paper trimmer

Therm O Web clear adhesive tabs

Kraft cardstock cut 9.25x4

Gold metallic cardstock cut 9x3.75

Ecru linen cardstock cut 8.75x3.5

pineapple stamp

Gold ink

Gold embossing powder

Embossing heat gun

Raffia
The top layer of the invite was created in MS Word and printed on the ecru cardstock with on my home ink jet printer. After printing, I stamped and embossed the
pineapple, then I adhered the back of the ecru cardstock layer to the gold cardstock layer, and that layer to kraft cardstock layer. I then finished it off by tying a couple of strands of raffia into a bow.
Debbie Maddux-Vargas
Miami, Florida USA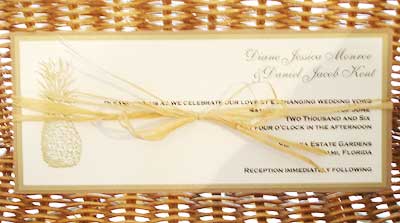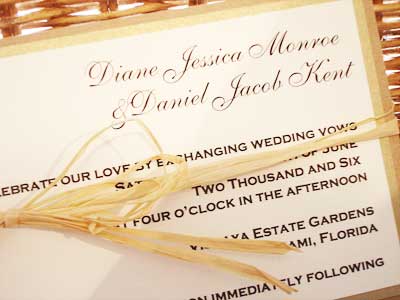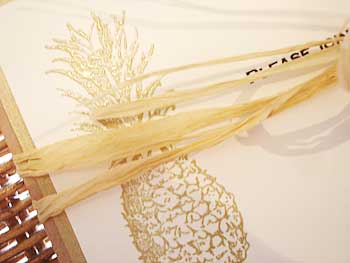 Stamped and Embossed Pineapple embellishment
Now you have your Tropical themed invitations sorted you can move on to planning the other wedding details. The Wedding Ideas Guide website have a few ideas for your Tropical Wedding theme to help you plan for that perfect day.
Return from handmade Tropical Wedding Invitations to Make your own wedding invitations