Wedding Rehearsal Dinner Invitations
Need ideas for handmade Wedding Rehearsal Dinner Invitations. Keep your wedding expenses well within your budget by making your own handmade invitations. Keep them simple and timeless so that they say 'nice invitations' We don't want them creeping over to 'tacky invitation land'.
Click on the invitation to see more details.
Hand Drawn Wedding Invitation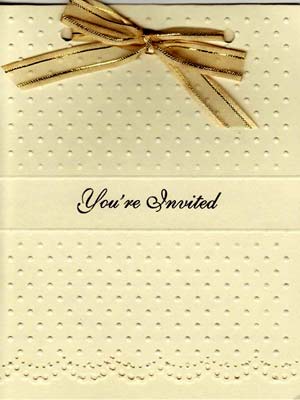 My husband's son is getting married, meaning one of our responsibilities is the rehearsal dinner. As most weddings go, costs seem to just get out of control, so I told my husband we can cut back a little on the budget if I just make the invitations. So I started to look around at some websites for ideas on the style, and didn't really see anything I loved. So I took some parts of things I saw instead, and came up with this design. This also allowed me to play around with what it was that we wanted the invitation to say, since there were quite a few details that needed to get addressed. Lastly, I chose the Ivory, Black and Gold color scheme because that is the color scheme that the bride and groom are working with for all other parts of the wedding.
Products used:
8 ½ x 11 Ivory card stock, cut to 4 ¼ x 11, folded to 4 ¼ x 5 ½
font is English111 Presto BT ( 26 pt)
Cuttlebug embossing folder…Swiss Dots
Martha Stewart border punch "Doily Lace Edge"
Gold ribbon
Crop-A-Dile
Score Pal
I cut the paper into 4 ¼ x 11 strips and ran those through my printer for both the inside and outside copy. Then, I took the Swiss Dots embossing folder, put the bottom part of the front of the invitation in the folder and ran it part way through (up to the part that says "You're Invited") the Cuttlebug. I then took it out, turned it around, and ran it part the way through again. That left me with dots above and below the "You're Invited" part, but no embossing on the type. I took my Score Pal and made a score line to separate the dots from the type both above and below the words.
Next I used the border punch on the bottom of the front of the rehearsal invitations.
Lastly, I used my Crop-A-Dile to punch 2 holes at the top, cut my ribbon, and tied bows.
Made By Sheila Fox-Lovell
Marietta, GA, USA