Make your own Winter Wedding Invitations

Getting married in Winter? These wedding invitations are perfect for a Winter themed wedding. The delicate white mulberry paper that was used to encase the invitation gives this invites a translucent snowflake like effect.
This was Debbies very own wedding invitation for her January wedding on South Beach. It was made with a shimmery silver cardstock, white fused lace mulberry paper, and 3/4 inch organdy ribbon for a "wintery" feel.
Supplies used for winter invitations
paper trimmer

Therm O Web Clear Mounting Tape

White Fused Lace mulberry paper cut 12.5 x 6.25

White Fused Lace mulberry paper cut 6.25 x 6.25 then hand torn around the edges (the best way I found to tear the edges without tearing more paper than you want is to "paint" the edges with water using a small paint brush, then tear)

White linen cardstock cut 5.5 x 5.5 - top layer

"Platinum" metallic cardstock from Bazzill cut 5.75 x 5.75 - middle layer

"Platinum" metallic cardstock from Bazzill cut 6.25 x 6.25 - bottom layer

3/4 inch silver organdy ribbon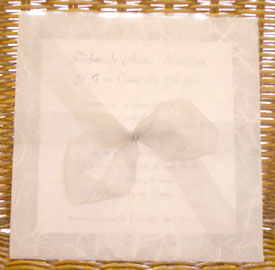 Invitation enclosed in mulberry
Step one - Print the wording
Cut the three layers to size with a paper trimmer. The wording was centered and printed on to the white linen card stock. I created and printed the invitation using MS Word and my home ink jet printer in a grey color.
Step two - Adhere layers
Each of the three layers were centered on the layer beneath and adhered together with mounting tape. If you have a glue runner this will help you get the gluing done a lot faster.
Step three - Enclose the invitation
Take the 12.5x6.25" mulberry paper. Center the invitation and wrap it in the mulberry "envelope," bay folding the sides over. Take a length of the organdy ribbon and tie it around the invitation forming a bow at the front.

Made by Debbie Maddux-Vargas
Miami, Florida USA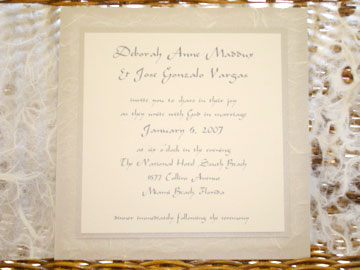 Winter invitation
Return from handmade Winter Wedding Invitations to Make your own wedding invitations.