Wording For Christmas Party Invitations
Look no further for wording for your DIY Christmas party invitations. We can show you a few tricks to create a Christmas verse for your celebration whether it be for a party or Christmas lunch or just an invite for some kids to come over and play with your childrens new Christmas toys.
See also the list of our favorite Christmas Fonts here that you can download for free and use to create fabulous Holiday invitations and greeting cards.
Casual Christmas Celebration Wording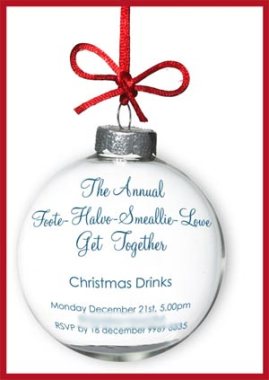 Eat, Drink be Merry!
Join us to celebrate the holiday season
* * * * * * * *
Christmas comes but once a year
Let's get together for some holiday cheer
* * * * * * * *
Celebrate the season with friends and good cheer
* * * * * * * *
Let's raise a glass to the coming new year
We'll toast to the holidays with friends and good cheer
Family and friends get together
Let's ring in the Spirited Season
Please join us for a
Holiday Celebration
Sunday, December 12th
2:00PM
123 Mary Street
Holesdale
Martha and Stewart Kennedy
RSVP: 1234 5678
Work party - xmas break up
Small or Family Business
Let's toast to a
Fabulous Year
Join Ross and Judy for drinks
as we honor our staff
and celebrate the holiday season
Saturday, December 20th
6:30 PM
The Friendly Snowflake Inn
27462 Joseph Rd
RSVP to Judy by December 10
1234-4567
Club Christmas Party
The Busy Bee's Social Club
Invites you to celebrate the Season
Saturday, December 5th
3:30 PM
At the Hills Clubrooms
1234 Frosty Lane
RSVP: 1234-4567
Yearly Christmas Party Invitation
Join us for the ________ Annual Christmas party
Friday 16th December
Eight O'Clock
Joan and Max
53 Candy Cane Road
Holiday attire
-------------------------------------------
The Johnson's
Annual Holiday Party
December 15th
at 8:00PM
1365 Fairweather Road
Regrets Only 1234 5678
Christmas Cocktail Party
Tis the season to mix and mingle

Christmas Invitation Verses
A couple of modified Christmas verses from some very old Vintage Christmas cards. I have switched out a word or line here and there to create poems to suit any party invitation you may have for the holidays. Santa and his reindeer may even make an appearance or two.
Christmas Dinner Invitation Verse
An invitation I've sent with a wish for the season
By this time it is well on its way
Unless it delayed by a very good reason
You'll be dining with us on Christmas day
Christmas Party
Here's an invitation for you my friend
A party to celebrate years end
May every fragrant Christmas cup
Be filled to the brim Whenever you sup.
amended vintage Christmas poem
Come celebrate with us my friend
We'll drink a toast to this years end
A good time we'll have it's been fortold

Lets get our wild on at the office
May your Heart beat To the Christmas Chime
May you come to our party for a smashing good time
Great Christmas Verses
I wish you a bright Christmas
filled with pretty things
And hope you will be happy
With everything it brings
Til then, come and celebrate with us
Come join us for eggnog
With good friends and food a plenty
You surely can't go wrong
....
Lets start afresh and celebrate
The end of an awesome year
Lets greet the next one
With festivities and cheer.