40th Birthday Invitation Wording Samples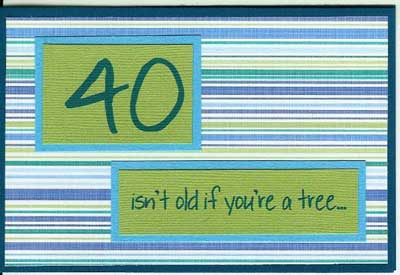 Finding wording examples for your homemade 40th birthday invitations doesn't need to be difficult. Writing your own verse would be fantastic and would add a touch of flair to your invites. It really isn't that hard to do. Think of some words to describe the birthday guest and use these to create a short rhyming verse. Let your ideas flow and jot them down as they come to you. You can edit and pick your best lines when you have a few.
To start you off we have a few suggestions that may get your creative juices flowing.
Cheeky One liners:
Of course you can't go past the classic "Life begins at forty"
40 isn't old....if you're a tree
40 is the new 30
Holy Moly, Guess who's 40!
oh oh
Jim has turned the big 4-0
Join us for Dinner before he gets any older
Shelly!
Bringing happiness to life since 1967
Poems and Verses
Fabulous life
Be a fab girlfriend and save the date
for a night on the town to celebrate
My fortieth year alive on this earth
Bringing joy to the world since the day of my birth

Rocking the world
I've been rocking the world since the late sixties
now it's time to settle back into a life of ease
I'm asking you now, my family, my mates,
To come rock with me, Lets celebrate!

Formal
You are cordially invited to celebrate Martha Line's 40th Birthday
Date: 4 July, 2008
Location: Chinese Gardens,
Brambray
Time: 8:30 p.m.
Theme: Asian elegance
Attire: Black and White
RSVP by June 5, 2008
Surprise
Hush now, don't give it away
There's going to be a party
Keep it under your hat for now
Johanna is turning 40
Come to a surprise party for Johanna on Feb 16th
Be at the house by 5.45 p.m. Sharp!
871 Newington Rd
RSVP to Regan on 9999 9999 by Feb 5th
Don't give it away, it's a SECRET!