Homemade Bachelorette Invitations

Bachelorette party vs Bridal showers? Who knew there was a difference? As turns out there is. A bridal shower is apparently for showering the bride with gifts and love by her friends and family members and often held in the afternoon at a family members home with food and tea/coffee. On the other hand, a bachelorette party is more of an evening event at a more risqué venue (like a bar) The female version of a bucks night I guess. Anywho... just thought I'd share.
If you have a homemade party invitation that you would like to share then send it over via the submit invitation form.
Saucy DIY Corset Invitations
These hot little diy invitations were made for a girls night out in honor of the Bride to be and I think they look great! A simple tri-fold card with eyelets and black satin ribbon tied up like a corset... awesome. The invitation is printed on to white cardstock with a scalloped edge. You can buy some cheap craft scissors for that. See more instructions below.
Made by Brandy Seitz
Midwest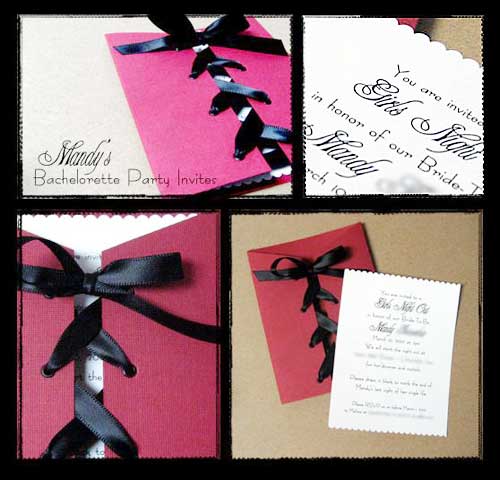 Instructions for these corset invitations will fit an A2 sized envelope
Materials
3/8" round eyelets (x8) (1/8" or 3/16" eyelets will work just as well)

eyelet setting tool

3/8" hole punch tool from craft store or scrapbook shop

Black ribbon - thickness should be 3/4" or at least double the diameter of the eyelets - I like triple the width of the eyelets

Cardstock 8 ¼"" x 5 1/2"

Card inserts 4" x 5¼"
tip - the Crop-A-Dile tool is a good tool which punches holes and sets your eyelets.
Directions
Take your cardstock and score a fold at 2 " and 6 ¼"" along the length of the card

Mark a point 1" down from the top left corner of the card. Rule a line from the top left crease down to the point. Cut along this line with a craft knife and a straight edge.

Repeat step two for the right hand side.

Punch four holes along the side edge of the card 1/2" in from the side. Frist hole should be approx 1/2" from the bottom, 2nd hole 1 5/8", 3rd hole 2 6/8", 4th hole 3 7/8".

Repeat for the right side of the card.

Create your insert and type or hand write the invitation details on to it. You can decoate the top and bottom edge with decorative scissors or pinking shears.

Fold the card and thread the ribbon like you would a corset or shoe laces starting from the bottom. Tie a bow at the top.

Slip in the insert and you are done.
Bachelorette invitation wording
You are invited to a
Girls Night Out
In honor of our Bride to Be
Sandy Robinson
June 15, 2010 at 7pm
We'll are starting off the night out at
The Roxy, Parramatta
For nibbles and cocktails
Please dress in black to mark the end of
Sandy's last night of her single life
See more bridal invitation wording
Bachelorette Verses
It's a night for the gals to mix and mingle
These are Sal's last days of being single

Buy new shoes and dance all night at Bella's last night of freedom