How to make Baseball Invitations
Having a baseball themed birthday party? Maybe you're inviting the boys (and gals) over to watch the playoffs... Whatever your reason for throwing a baseball party we have some great ideas for making your own homemade invitations.
Baseball themed invitation ideas
Cut baseball shaped invitations
Get some craft card and make your invite round like a baseball, draw in the stitching of the ball to give it an authentic look. By the same token you could try your hand at creating a bat shaped invite or maybe even a baseball glove.
Make a baseball ticket invite
Make a ticket invitation - Use a real sports game ticket for inspiration. Use terms like 'admit one', party time = 'Game time starts at', party location = 'whatever Stadium', 'All Star Celebration'
Write on a baseball
Find some cheap plastic baseballs and write the invitation wording directly on to the ball. Hand them out to all your friends
Baseball invitation wording
Baseball catch phrases:
| | |
| --- | --- |
| Come watch the playoffs Come over | Play Ball - party starts |
| Slide on into our home base - Come over to our place | group - posse |
| Come have a ball - Come and have a good time | call the coach - RSVP |
| Come and cheer your favorite team on - come on over | have a ball - have a good time |
| Come to the Ball Game - come to the party - Batter up! | Gates open at 3pm - party starts at... |
| Slugger - Party boy or girls | First pitch - start time |
| Our house - The Franktons Field | Admit one |
| Reedy's backyard oval - the Reedy's home - party venue - Reedy pitch | Catch all the fun |
| Bases are loaded | |
| You've been drafted to join the team - you're invited | Take me out to the ball game |
Invitation wording examples
Hotdogs, cake, games and fun
Our little slugger is turning one
***
Batter up, step up to the plate
join us for a birthday to celebrate
Jimmy the hitter is tuning 9
To reserve your box seats rsvp
Coach Brad 123 4567
Baseball invite examples
Click on the invitation category below to see more details on how each invite was made.
Dodgers Fan Birthday Invitation
I created this last year for my son's 8th birthday party. He is a HUGE Dodgers fan (even though we live in Illinois - go figure), so he got a big kick out of this one. This was created using Illustrator, Photoshop and InDesign. We grabbed a picture of the dodgers stadium to use as a background, then found a clip art drawing of Dodgers player in his uniform catching a ball. We added the party information and then printed them.
Homeade By Chrissie Tobas
Wheaton, IL, United States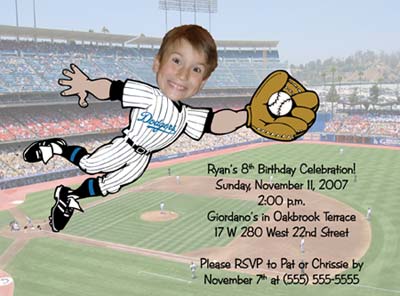 Customised sports ticket invitation
Now we know not every one is a DIY'er so If you don't want to make your own invitation then order our custom photo ticket sports invites that can be turned into a baseball ticket invite. We make you a printable invitation customized with your party details and a photo of the birthday boy or girl. You can then print off as many invitations as you like from your home printer or at a photo developers lab.


Custom Printable Sports Invitation
The colors can be changed to suit your own baseball teams strip or your favorite Major League baseball team that you support. If you want to add some extra party information we can usually fit it all in.


Alternative baseball invite design