Making Cake Birthday Invites

These handmade invitations have been inspired by all almighty birthday cake! mbellished with a Fimo Cake shaped charm. i remember using Fimo when I was a child. If only they tasted like cake...mmmmm.....
Give your birthday invitations a bit of kick and create some fun cakey embellishments just like these that our readers have made.
Pieces of Cake Invitations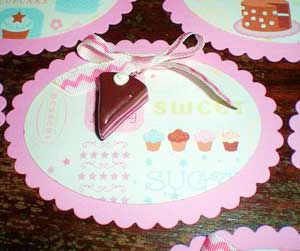 Fimo Cake Charm invitations
I made these for my sweet girls 7th birthday party. I loved the patterned paper we had and we were going to make chocolates. I was inspired by the paper and what we were going to do
How to make them:
I used 2 different sizes of nestabilities - one pink scalloped oval cardstock to print the invite on, and one very sweet patterned paper oval.

I then added a little ribbon bow and made sweet little pieces of Pie from Fimo clay to hang on the bow

The entire process did not take too long, just 50 minutes, including the 30 minutes baking time for the clay pie pieces

Hints and tips: just make a big pie and than cut the pieces and if you add little pieces of wire in them befor baking (I did) than you can easily add them on the bow and after the party the kids can hang them on a necklace or something
Made by Diana Louwerens
Netherlands, Spijkenisse