Simple Bridal Shower Invitation Ideas
You can create elegant and inexpensive invitations for your bridal shower with your home pc and printer and a good eye for patterned paper. We have already discussed elsewhere on this site that scrapbooking papers are perfect for making your own invitations. There are so many great designs and when you take into account that you should be able to get 4-6 invitations per 12x12" sheet they are very cost effective. You can purchase papers from your local k-mart, craft shop or department store but the best papers with the best designs are certainly those from scrapbooking stores and stamping stores.
Click on the invitation to see more details.
Sweet and Simple Bridal Shower Invite
A couple of family members are throwing me a bridal shower and this is the invite they made! Soooo adorable!

Candace
Edmond, OK USA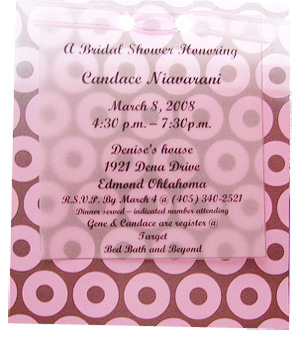 This is a simple invitation put together with patterned card, some vellum paper to print the detail of the party and it is all tied to together with a small stretch of ribbon. Ribbon is a good alternative to adhesive for bringing the different invitation elements into one single design. You will not see any tacky glue through the vellum at all.
Wedding Dress Invitations
Made 20 of these invitations for a bridal shower that I'm helped to host. I got the idea from Impress Rubber Stamps but reduced it and used my Cuttlebug.
Supplies to make invitation:
Stampin Up papers and ink Cuttlebug embossing folder - You can use simple textured white papers from a scrapbooking shop or craft store. Paper doilies are also great for making bridal dress patterns.
Card for dress template - cereal box cardboard is good.
Ribbon
PaperTrey Ink stamp sets
paper flowers from a local company here in Hawaii - Photo Crafts.
How to make the invitation
Cut out a simple wedding dress template from card to fit on to your invitation.

Use the template to trace onto the wrong side of your textured white paper and cut out the dresses.

stick some ribbon across the waist section of the dress - it's kind of like a belt or trim.

adhere a small paper flower to the ribbon embellishment.

Write out your invitation wording on the inside of the card. You could pre print the wording from your computer.
Elana
Kohala, HI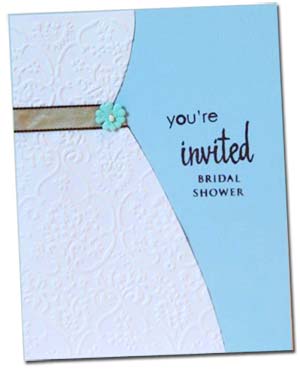 You're Invited Bridal Shower
See also
More bridal shower invitation ideas
Bridal shower invitation wording examples
Make your wedding invitations