Cartoon Save The Date Cards

Why not have a little fun with your STD cards. You can save all the formal stuff for the actual wedding invitation. Let loose a little like these readers have done and create something fun and carefree. And I reckon you can't get much more fun than a comic book character theme.
If you love your superheros then you will love this Spiderman inspired save the date card. You can incorporate this idea into your own unique Save the date cards. I would personally love to see one with my own favorite characters from the Avengers or maybe even Superman
Spiderman Comic Save the Date Card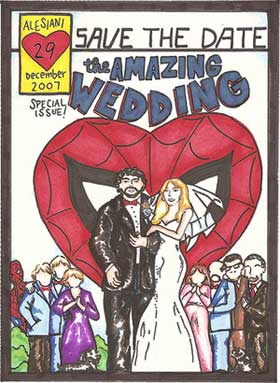 My spiderman save the date cards were made by my very talented friend Melissa. She drew up a pencil sketch, we revised it a few times and then she did an ink trace for the outline. She then used paint pens, sharpies, & markers to fill in all the colors.

We drew it a few times larger than I wanted. That way it could be scanned and shrunk down and still maintain the clarity and crispness. The digital file was saved as both a .jpg & .pdf. I used Prints Made Easy to print up a bunch of 4x6 double-sided postcards. We put more details & our website on the back. They were very inexpensive & I was very pleased with the colors and quality of the final product.
Free Mini Magnets
I used the same design and printed business card size magnets through VistaPrint. I signed up for their mailing list and waited for one of their free magnet offers to come around. The magnets were ok. I thought the quality & colors wasn't as bold as I'd like but they were free! VistaPrint's customer service said they would have looked better if the resolution had been 300dpi - which it wasn't.
Vistaprint Bargain:
At the moment you can get any sized magnets for 1/2 the normal price with this offer. Not quite free, but still really good.
50% Off All Magnets - All Sizes

Carrie
Newark, NJ, USA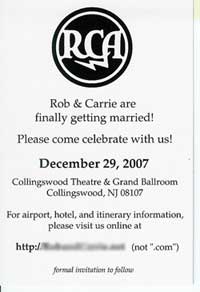 Back of Spiderman card