How to Make Elmo Birthday Party Invitations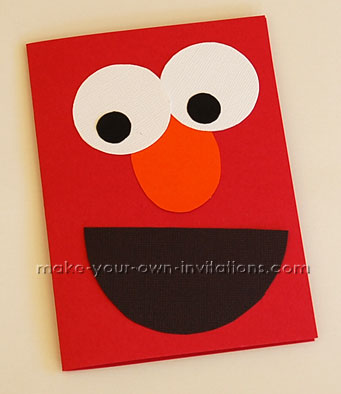 A you planning to throw a Sesame Street themed party for your little boy or girl? Do they just love Tickle Me Elmo, the friendly cheerful monster with the cutest giggle. Picture a bright red Elmo with large googley eyes, a half moon puppet mouth and his signature orange nose. It sounds easy enough to create the invitations yourself and it will certainly be an invitation fit for any Sesame Street birthday party. He's just sooo lovable and cute!
Our series of Sesame Street themed initiations are popular with mums as it's familiar territory as we were all likely to have watched a little Sesame Street ourselves when we were younger. These invites are simple enough to make that even the kids can join in with a pair of scissors and glue to help put them together.
Supplies to make Elmo party invitations
Card base in a nice bright red.

White, black and orange cardstock.

Craft knife and scissors.

Adhesives - double sided tape or a glue stick, pop dots or foam tape is optional to make the black dots in the eyes 'pop out'.

Pencil and various circle shapes to trace for the eyes.

Bone folder to make a nice crisp fold on the red base card (optional)
1. The base card
Cut your bright red card down to size - I used pre-cut A5 (148mm x 210mm) sized card from a scrapbook store that sold card making products. Use your bone folder if you have one to fold your card in half,
Print the wording for your invitation onto plain white copy paper and adhere to the inside of the card.

3. Trace Elmo's features
Trace some round circle eyes onto white card and cut them out with a scissors or craft knife. Our eyes measured approximately 30mm or 1¼"
I found that an egg cup gave me the perfect sized circle for the white of the eyes. The pupils were a little tricker, I used the hole at the center of a CD.

3.
Do the same for the mouth and nose. I used a large jar for the mouth - traced the jar on to black card and cut in half to form two mouths. I couldn't find a nice oblong shape for the nose so I simply hand sketched a shape on to card to use as a template for the 20 or so invitations that I had to make.
Take your base card and arrange the eyes, nose and mouth onto the card. Enjoy your party.
Elmo invitation wording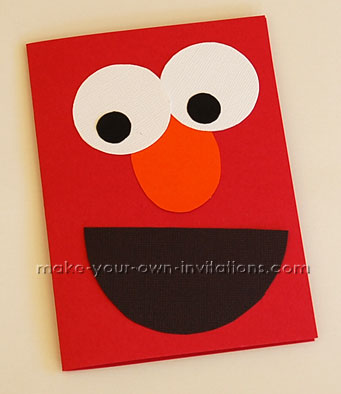 Elmo Birthday Party Invitations