How to Make Sesame Street Invitations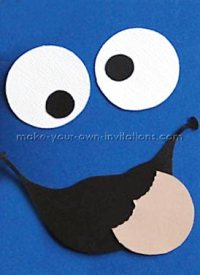 Sesame Street themed birthdays are still very popular with both kids and adults. I remember watching Big Bird, Cookie Monster, Elmo, Snuffy and the rest of the gang when I was just a child and now I'm making Sesame Street invitations for my own daughter.
Sesame Street invitation ideas
Make it with Sesame clipart
Search for Sesame Street clipart on the internet and insert them into a word document along with your party details
Card making
paper, scissors, glue - Buy bright and bold colored cardstock in yellow, red, blue and green plus black and white for you childs favorite characters mouth and eyes. Make your childs favorite character by cutting out the card in the various shapes and piecing them together to make a card.
Photo invitation
Insert a photo of your child into your word document invite.
Sesame Street Wording
Sunny day, Everythings A-okay
Come and play
It's Jonathans birthday (Sam's 5th birthday)
Can you tell me how to get,
How to get to Jonathans Street!
Party details
This birthday was brought to you by the letter 'L', and the number 5
Free Sesame Street invitation fonts
Here are a couple of free fonts that you can use if you are going to create your invitation on your computer. These are from Fontspace.com.
FL Sesame Street font by FontasyLand. This font features all the popular characters as well as some of the less common ones including Grover, Bert, Ernie, Big Bird, The Count and more.

RMSAlpha font by Renny Murray - Grovers in a trash can with letters on the front of the can.
How to make Cookie Monster Invitations - Tutorial
These Cookie monster invitations were a breeze to make. You can get your kids to help you cut, assemble and glue all the elements together.
Supplies to make Sesame Street invitations
Blue card stock

White construction card

Black card

Craft knife and scissors

Adhesive - glue stick and double sided tape

pencil and bone folder and circle shapes to trace for eyes
1. Prepare the card
Cut your card to size - I used pre-cut A5 (148mm x 210mm) sized card from a scrapbook store that sold card making products. Fold your card in half, use a bone folder if you have one to create a crisp clean fold.
Print the wording for your invitation onto plain white copy paper and adhere to the inside of the card.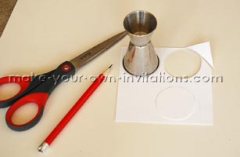 3. Make the eyes
Trace some large circles approximately 30mm or 1¼" in diameter on to white card. I searched in the kitchen cupboards for a glass or egg cup to use as my template.
Cut out your eyes with a scissors or craft knife an set them aside.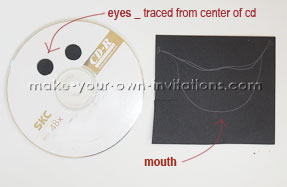 3. Pupils for eyes and mouth
Trace some smaller circles on to black card for the pupils. These measured approximately 10mm across. The only thing small enough to trace that I could find in the house was the centre hole of a cd disc.
Draw a mouth shape onto the black card with a pencil an cut out with a craft knife.
3. Cookies!!!
Trace another circle shape onto light brown or tan colored card. When you have cut them out you can cut out a couple of "bite" shaped pieces to make it look like a cookie that has been bitten.
With a brown colored crayon you might also like to draw some small chocolate chip shapes.
Assemble all the pieces of your Invitation on to the front cover of your card as shown in the picture below. Be sure to make sure the eyes are googly and crazy looking.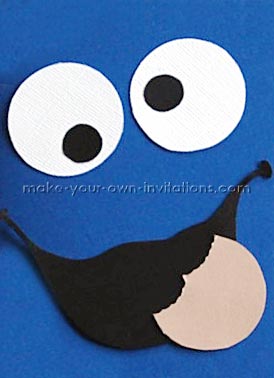 Cookie Monster Invitations
More Sesame Street character invitations
Return from Sesame Street Invitations to see how to make kids birthday invitations