Self Contained Envelope Invitations
These self contained wedding invitations were made in such a way that once it was folded it formed an envelope. The bride and groom were able to simply write the address, slap on a stamp (which they had custom made at zazzle.com) and pop them in the post. They were able to save time, money and the planet in the process. check them out.
Our Wedding Invitations
I created the layout and design of the invitations myself.
I then printed them on our home desktop printer on to white cardstock that we purchased at Lion in the Sun in Park Slope, Brooklyn.
I cut them (and my fiance) with a X-acto knife, a metal ruler and cutting mat (he folded them) I used a rounded corner punch to round off the corners - it REALLY makes things look polished - I had no idea! I also used a flower punch on one of the tabs
I also printed our return address on the back & folded the flaps to mail them directly. each was made from a single 8.5x11" sheet.
Made by Phaedra
Brooklyn, NY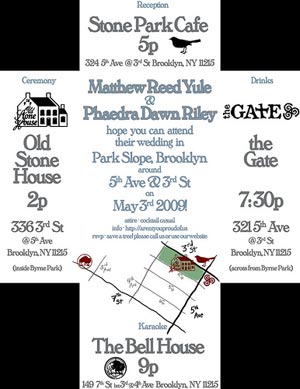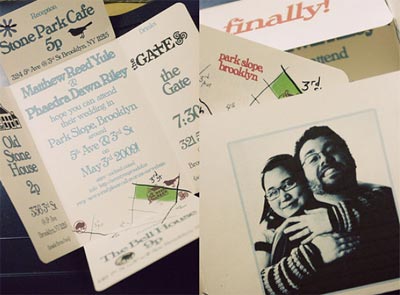 The layout and the final hard copy of the wedding invitations.