Making Farewell Invitations
Making some going away party invitations for your farewell bash. Add some spice to your homemade invitation creations. The invitations below use
Click on the invitation image to see more details.
| | | |
| --- | --- | --- |
| | going away party invitation | |
Transparent Farewell Party Invitation
This is a transparent invitation that I made for a farewell party. I Love the way it turned out. I just used some Hambly transparency's which you can buy from a scrapbooking store, traced them and glued the party details and some patterned scrapbook papers all together... added some ribbon for embellishments too.

Emine Pala
The Netherlands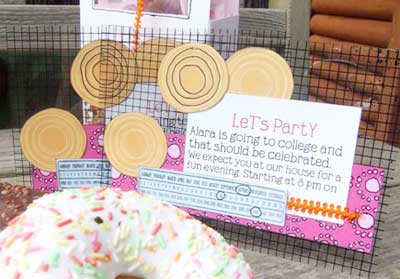 You can simply follow these directions to make a clear invitation from transparencies.
Step one
Grab some transparency sheets that you find in the stationary cupboard at work. You can purchase them from your local office supply store. Cut them down to size. For our example we'll say approx 5½" x 4" (you should be able to cut 4 of these from one a4 sheet) If you want a funky lined background then print one on your printer first.
Step 2
Cut a strip of funky patterned paper approx 5½" x 1½ and adhere it to across the invitation slightly below center. Type up your invitation details using ms word or similar. Make sure that they measure approx 2" x 3½".
Step 3
Cut some random shapes from coordinating papers and stick them on randomly.
Step 4
Print and cut some date tabs from the printable clip art page and adhere to the top.
All done...
Hot Tip
Random pieces of left over scrapbook papers make perfect embellishments for invitations. Simply cut out a random shape and layer them on top of each other. For extra wow you can ink or chalk the edges - take an ink pad an rub it gently along the edges of the paper, this gives the paper some dimension and makes the 'POP'