Flip Flop Invitations for Bridal Showers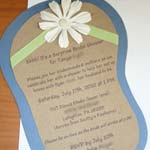 Making invitations for bridal showers can be fun and carefree. Take these flip flop invitations as an example. Your DIY wedding invitations may be formal but your bridal shower or bachelorette party is an ideal occasion to dress it down a little.
Flip flop invitations would work well with an outdoor wedding held at a park or nature reserve. They are also perfect for a beach themed wedding or wedding shower. Kim made these invitations for a friend from where she works. The shower was a surprise and so were the invites.
To make these invitations you will need firm card stock in two coordination colors (blue and craft in out example) of your choice; ribbon; paper or synthetic flowers, two pronged brad and adhesive - maybe a glue stick and double sided tape.
On a scrap piece of card, draw and cut out a rough template for the base of your flip flop (or thong as we say in Australia) Draw and cut out another template slightly smaller than the base.
Hint: Use your envelope as a guide to the approximate size of your Flip flop.

Use the template to cut out the flip flop base from the blue card and set aside

On your computer you will need to create the text so that it fits within the smaller template, this may take a bit of trial and error on scratch paper. Print out the invitation wording on to the craft colored card and cut out.

Cut a length of ribbon long enough to form the straps and tuck under the sides of the card (about an inch on each side) Mark a point about an inch down from the top and middle of the card. poke a small hole through the card, lay the ribbon and flower on top and use the two pronged brad to secure it to the craft card.

Tuck the two ends of the ribbon under and tape or glue to the back of the card. I like to use double sided tape for this.

Adhere the craft card to the blue base and you are all done.

Flip Flop Bridal Shower Invitations