How to make a Gatefold Card Invitation
As the name suggests this kind of card opens with the two side panels swinging open towards you like a gate to reveal the contents inside. It can be held closed with a paper belly band (paper sash) or maybe with a length of satin ribbon.
You can adapt the gatefold technique to suit your party theme. Take a look at these very cool bachelorette invitations which mimic a corset being tied up. You could make a button up shirt for a business mans invite or a shoe with laces for a boys birthday party. A barnyard door, a garden gate, western saloon doors are just a few ideas for a gatefold invite.
We will make a basic gate fold invitation which measures 4" x 8¼" to fit comfortably in a DL sized envelope.
You will need:
1 piece of 8

" x 8

¼" card stock
1 piece of 3

¾" x 8

" for the insert (You should be able to fit 3 on 1 A4 page)
optional - you can create an extra insert layer to sit on the top at 3½ x 7

¾"

Paper trimmer, xacto knife, ruler, pencil
appropriate adhesives - doubles sided tape or a glue stick.
Step 1
Take your 8" x 8¼" card stock. Score and fold 2" in from each side. Set aside for now.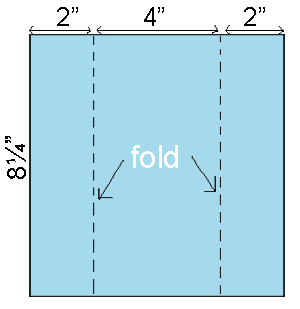 Step 2.
Use your computer to create the text and wording for your invitation. The text needs to fit on to the 3¾" x 8" insert with at least a 1/8th margin on all sides. You can print two invitations comfortably on to the one sheet of A4 paper. Possibly three inserts if your printer allows.
Proof read and print a test page to ensure you have all the measurements set correctly. Make up a mock invitation with all the separate pieces to ensure it all fits together. When you are happy you can cut the inserts to size
Step 3.
Adhere the insert to the center panel on the gate fold card with tape, or glue. Make sure it is centered nicely. You can stop now if you like or you can go on to create a belly band to keep the invite nicely closed.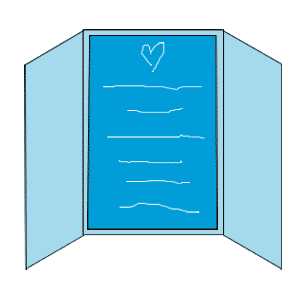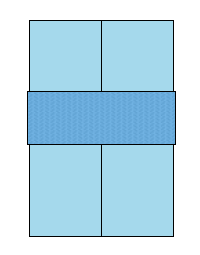 Step 4.
Take a strip of coordinating paper to make a belly band around the closed card. The length needs to be at least 8 3/8" and the width can be as wide as you like.
Loosely wrap the strip around your closed invitation with the two ends meeting at the back in the center. Take it away from your invitation and glue the ends together with one end overlapping the other. When it is dry, slip it back over the completed closed invitation.
Try a Ribbon Tie Closure
Another style of closure is to use a length of ribbon. If you wish to do this you will need to cut two vertical slits the width of the ribbon at the center of the gatefold card after STEP 1. Thread a length of ribbon approximately 20" long through the slits. Center it and secure it with double sided tape. Adhere the insert onto the center panel on top of the ribbon. Tie the invitation closed with the ribbon and finish with a bow.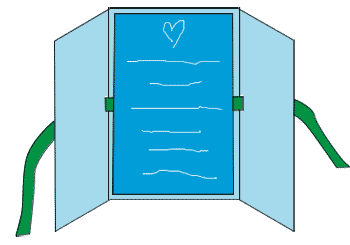 Related Links and Inspiration