Homemade Housewarming Invitation Ideas
These wonderful invitations were made by Tanya from Save the Date for Cupcakes. Tanya wanted to make a "key and tag invitation" and produced these fabulous hand made invitations with some tags that she had on hand. She did have to order in a set of 20 trunk keys from her local key store to complete the look. I gotta say that they look really good and don't appear to be all that difficult to make.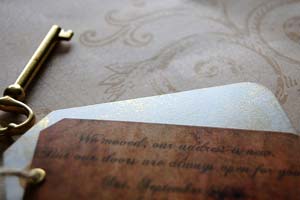 key and tag housewarming invitation
Supplies
trunk keys ordered from a local key store
shipping tags - you can buy a set of these from any craft store, I like to use the shipping tags that you can purchase in stationary shops. They are pretty cheap. You can also cut out your own tags very easily.
gold brads
twine
printer
Directions
Print out your housewarming wording on to your tags. You may want to make your own tags by printing the wording several times on the one piece of cardstock then cutting out each tag individually. This will likely make the printing process a lot easier for you as printing on to small bits of card can sometimes be a bit tricky.
Set an eyelet in the tag hole. Any additional tags added for decoration can left as they are if you like.
Thread a small piece of twine through the tag/s and the key and tie into a double knot. Trim the excess twine and you're set.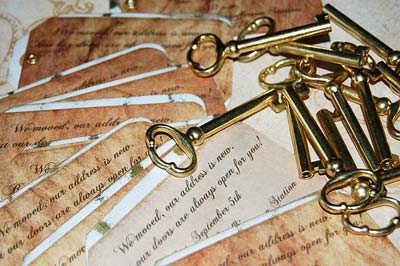 Where can you find old fashioned keys
If you want to save a bit of extra money you can have a hunt around for some inexpensive keys.
Thrift stores and op shops are a great place to find old keys that can be repurposed, you will not only have cool invites but you will be doing a great thing for the environment.
Ebay is good for some cheap bargains
Look in craft stores in the charm section for faux keys for craft projects
Housewarming Verse
We have moved, our address is new
Our door is always open for you