How to make a poster invitation
This is a tutorial to make a certain kind of poster invitation. Like the old school posters one might find advertising a band that will be playing at the local pub. I'm thinking a 'Blues Brothers' poster in bold black and white with newspaper banner type fonts.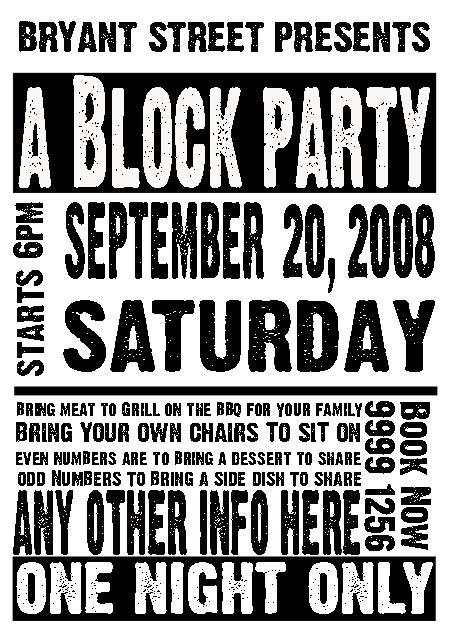 I made my poster invites with photoshop for an internet buddy who needed invitations for a street block party that they were hosting. These instructions are for making your invitation with a word processing program like MS Works, iWork, pages etc.
Before we start we want to ensure we have all the tools we need.
Word processing program - I am using MS Word
Fonts - Dirty Headline by S. John Ross (download it)
- Other free fonts to consider using are Headline, Go Long
Step 1
Open up a fresh new document in MS Word
Step 2
Open up the 'drawing' tool bar by clicking View -> Tool bars -> Drawing tool bar. We will be using two tools: the arrow tool to move stuff around and the 'text box' tool to write our invitation information in.


Drawing tool bar
Step 3
Go ahead and click on the text box tool, select the Dirty Headline font and type in your first line of text. We will a separate text box for each section of text. Resize the text and the text box to your preferred dimensions.
Change the color for the outline of the text boxes to be 'No line'
Step 4
Create the rest of your text segments, changing the size, color and orientation of each to suit.
Tips
Text Orientation - When you have the text box tool selected above you will notice the little 'text box' properties toolbar. It took me a little while to notice it tucked away in the corner. Use the 'change text direction' option to create the vertical text sections (eg. the 'starts 6pm' piece below).
Create white text on a black background - Click on the text box and use the fill color tool. Choose the color you want to use for the text.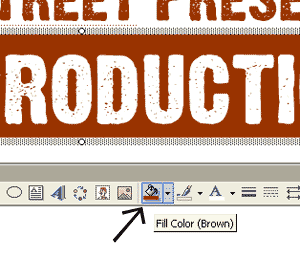 White text on a brown background
View -> Tool bars -> Text box tool bar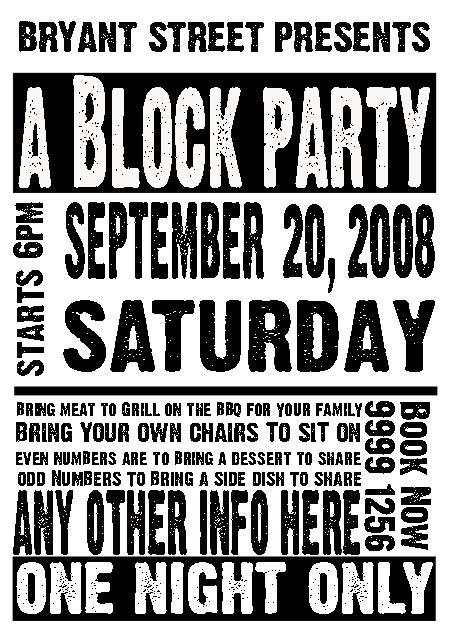 This example was created in photoshop and fills an A4 page
Look for a sans serif font (no flick fonts) that read well all in capitals. Kind of narrow, thick and tall fonts look great. Maybe search for 'poster' on font sites to see what they come up with.
If you have any questions or would like to add some advice of your own then please get in touch, we'd love to hear from you. If you have a poster invitation that you would like to share then send it to us.
Related Links
- BBQ Movie Poster Invitation