How to make Flower Invitations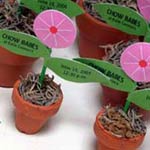 These fabulous flower pot invitations were made by Kim Carney who has made up this tutorial for us to make our own sweet invitations. A word of caution before you start though - They are expensive to mail so consider this invite if you are making less than a dozen invites in total for a small birthday party or if you will be hand delivering the invitations yourself.
Supplies:
Computer and a colour printer - alternatively you can print in black and white and color by hand with water colors. Maybe use rubber stamps and text, a bit more work but they's look lovely.

Small circle punch - up to 1" would be a good size

Small 1" clay flower pots (we purchased at Michaels)

Green paint

Dowels or green toothpicks. Toothpicks are a bit too thin. If you use doweling you will need to paint them green and cut to size

Glue, scissors etc

Floral Styrofoam, cut very small to fit into the clay pots

A tiny bit of moss to cover the Styrofoam

A small mailer box to fit the invitations along with shredded paper

Step 1
Carefully cut the styrofoam into pieces that will fit snugly in the pots. Glue it into the bottom of the pots
Step 2
Paint your dowels green and cut them to size (approx 2¼" long) or get your toothpicks together.
Step 4
Choose your flower design and create a MS Word document or similar and insert 2 flower images per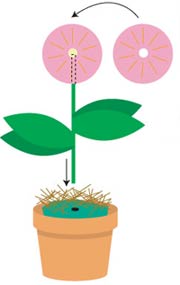 invitation the same size as your punch. A 1" flower shape will work well with the punch.
Create the text within the leaf as well. In Word you would insert the leaf image, then create a text box over the top of the image (View -> toolbars -> Drawing -> Text Box. Double click the text box to set the Line color = 'No Line' and the Fill color = 'No Fill')
Step 5
Print out the flowers and use the circle punch to cut out each image. You can also do this witha pair of scissors. Take two flowers and glue them together with one end of the dowel sandwiched in the middle.
Step 6
I was able to fit the party information on to the front and back of 2 leaves. Print out the leaves and cut them out. fold them in half and glue them onto the dowling.
Step 7
Stick the dowling stem into the styrofoam. cover over the styrofoam with the floral moss - use a bit of glue to hold it firm.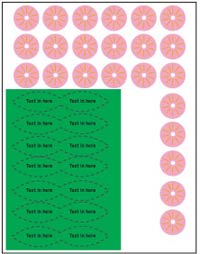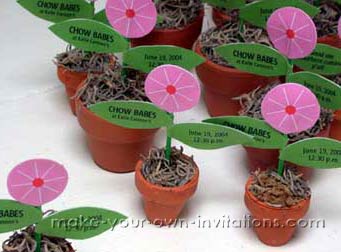 Example of how you might set up your flowers and leaves sheet ready to print.
Free printable flower and leaf invitation templates
1½" Leaf image (right click -> save image)
See Step 4.

1" Flower image (right click -> save image)