How to make Monster Birthday Invitations
I needed some cool invites with a Monsters theme and created these monster party invitations for my son's upcoming 3rd birthday party.
The Sassafrass Monstrosity Collection is the cutest line, and when I saw it last year, I knew I had to have it for this special occasion. All the monsters are so cute, I couldn't decide on just one so I created 4 versions.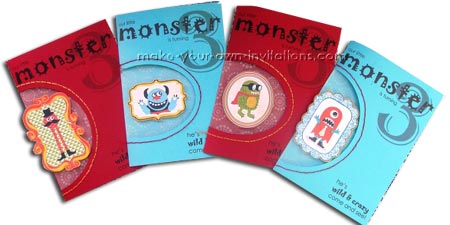 Monster party invites
Materials to make invitation
Scrapbooking papers by Sassafrass - Monstrosity Line. Any patterned paper with monsters on it will do, you colud even print out monster clipart.

Single sheets of Vellum paper from craft store (Hobby Lobby, specialty paper section)

Cardstock - I used American Crafts 5X7 Cardstock Blank Cards in Red & Pool.

Craft knife, pop dots, glue

needle and thread for decorative stitching (optional)
Directions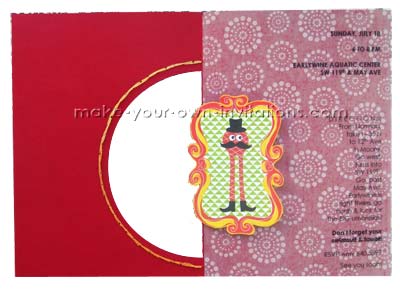 The actual construction of the card was created so that not only can you see the little monster on the outside of the card, but on the inside as well.
Step one
With your computer print your party details on to your red colored card. You might need to play around with it at first to get the alignment right. Do your test prints on to scratch paper first. I used two different color cardstock to make these invitations - blue and red.
Step two
Take your printed cards and fold it in half. I created the "window" by cutting a half circle on the top page of the card only, and hand stitching around the opening using contrasting thread.
Step three
I lined the inside of the card with white dotted vellum that had the party details printed on to it.
Step four
The monster pictures were from a piece of 12"x12"Sassafrass Lass scrapbooking paper, the Monstrosity Line. I simply cut around each image and attached to the card using foam/pop dots.
I had lots of fun creating these!

Completed Monster Invitations
Made by Amy Baldwin