Make Ladybug Invitations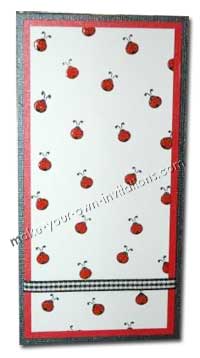 Wondering how to make invitations with cute ladybugs for a little girls birthday party?
It goes without saying that your invites should be black and red just like ladybugs - yes I know there are yellow and other colored bugs but we are going for the traditional and more popular look. You can add white as your third contrasting color.
Take a look at some of the ideas we have for a DIY invitation. We also have a free printable invitation that you can download and print in no time at all.
Ladybug invitation ideas
Ladybug shaped birthday cards
Make your invitation in the shape of a ladybug. All you need are circles! A Black circle for the body with a red circle cut in half for the wings. a small black circle for the head and lots of black circles for the spots. Write your party information on the underside of the invite in white pen or on the top of the body and beneath the wings which will open up to reveal the party info.
Red and black colors
Make your invitations in the colors of a lady bug - Use Red, black and white construction card. Remember also that some ladybirds are yellow and black.
Flower card
make a flower card with a small ladybird resting on the flower petals.
Ladybug clipart invitations
Hunt for some insect clip art on the internet to make simple paper embellishments.
Ladybug invitation wording samples
A couple of sweet wording examples you might like to use.
Our little lady is turning 2
Join us in the garden for a birthday celebration
Our lady bug is 3 spots old
Join us for a lady bug birthday bash
Free Ladybug Clipart for making invitations
Choose from our selection of ladybug clip art created especially by us for you to use on your own party invitations. It's as easy as picking one of our designs, downloading it to your own computer, inserting the image into your invite document and printing. They're great for embellishing party favors too.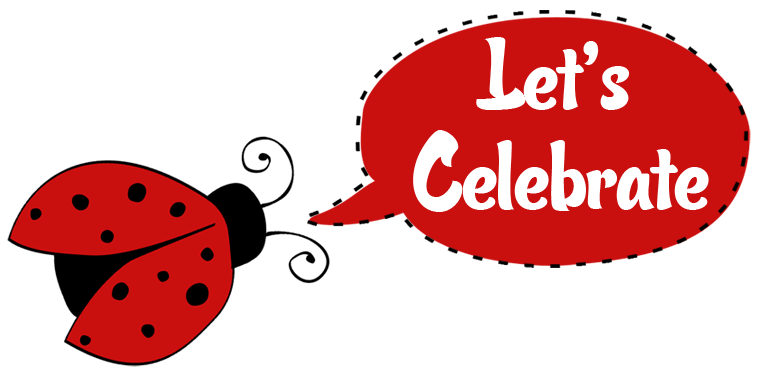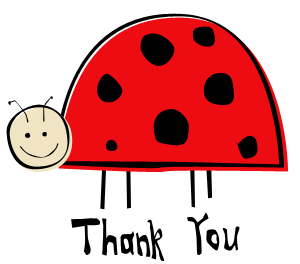 Choose your image from the ladybug Clipart for invitations gallery
Invitation examples
Stamped Ladybug Invite Card
These invitation cards were made for a friends daughters first birthday.
Supplies
White card, red Bazzill cardstock and black Bazzill card.

Paper Glaze - you can use diamond dimensions

Ladybug stamp from Amuse and black ink

Red sharpie, color pencils or permanent marker

Paper cutter or ruler and craft knife, glue stick
The ladybugs that you can see on the front of the invite have been stamped onto white card with black ink. The ladybug stamp is from Amuse. Once the lady bugs were all stamped, they were colored in with a red sharpie or permanent marker. They were then covered with a little drop of Paper Glaze on top. This will make the bugs pop out from the paper and give it some shine. Shiny little ladybugs.
The white card was then matted on to red bazzill card which is about a 1/4" larger than the white card. It was again matted onto the black card (all ladybug colors!)
The party details are typed up into a word document and then printed on to white copy paper and stuck to the reverse side of the card with a glue stick.
Made by Dawneika Barker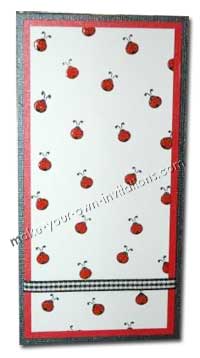 Homemade Lady bug invitation
Custom Ladybug Birthday Invitations that you can print
If your idea of DIY invitations is to simply print them out, then why not consider one of our custom printable ladybug party invites. We take your photo and invitation wording and create an invitation in .Jpeg file format for you to print from home.
The most cost effective way to print these custom invites is to take the .jpeg down to your local photo lab or department store and print them off as a 4x6 photograph (8c-20c per print). The print quality is great when printed this way too.
We can make these invites as a 4"x6" or 5"x7" (regular photo sizes)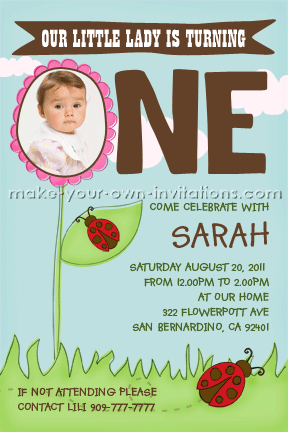 Custom Ladybug Birthday Invitations