Make Christmas Invitations with Scrapbook Products
Scrapbooking is a fast growing hobby, there is a whole other world out there where paper, scissors and glue rule. Thery are perfect for making DIY Christmas invitations. Nearly all of the supplies that you will find in a scrapbook store can be used to create fabulous invitations as the designs are beautiful. You can see that with this fine example of a hand made Christmas invitaiton.
The scrapbook papers that you will find are often part of a 4 or more set of carefully coordinated patterns, designed to compliment each other which will create more options and room for creativity when you come to make your holiday invites. In addition to that you there are often matching embellishments ranging from the very simple two pronged brad to other elaborate decorations.
I will say that while the papers are often cheaper than invitation stores they can still be a little pricey. Check out the sales and out of season stock for great bargains. I like to pick up cheap stuff on ebay.
Holiday invitation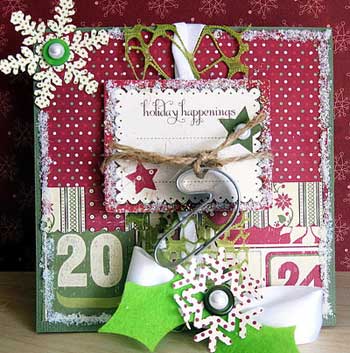 This invitation shows you what you can do with scrapbooking supplies. While it looks very elaborate the base of the card is made from a well chosen cardstock in forest green
Base card
The base card is a slightly smaller square covered in co-ordinating scrapbooking papers leaving a quarter inch border around the outsied.
Embellishments
The card is further decorated with cutouts and scrapbook embellishments. Craft punches have been used to cut out the snowflakes.
Ribbon and brads have also been used here and there. The major feature of this Christmas invitation is the candy cane.
The silver candy cane is one of a set of cookie cutters that were picked up on sale at a homewares store. It has been tied to the card with regular twine. Your guests can detach the cutter for making thier own holiday cookies.
Nearly any kind of Xmas themed papers and decorations will work with this invitation and you do not need to stick to the traditional green and red colors either.
Invitation by Cheryl Neilson