Fabric Wedding Invitations
Since my husband and I were on a tight budget for our wedding, I created all of the wedding stationery myself. I wanted a folding card that incorporated a photo of my fiancé and me. I chose a font I liked and then used it in all of the stationery to preserve the theme.
Invitation Inspiration
This came from two places. One was our (my husband and I) interest and enthusiasm for polaroid photos. They are so much fun! We enjoy the throw back to older times and the instant gratification. The second inspiration came from a trend I noticed in wedding invitations...fabric pockets.
Putting them together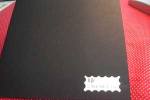 So if you can imagine a square black folded card invitation with a small piece of paper that included our monogram and wedding date that I glued on to the front. The card opens to reveal a polaroid picture of my fiance and me on the left hand side and a fabric pocket with the invitation details inside it on the right hand side of the card.
The Polaroid Effect
It would've been too costly to use an actual polaroid for each invite so I scanned and printed a color copy of the polaroid.
These polaroid copies were spray mounted to the card. Spray Mount by 3m Super 77 is great.
If you have Adobe Photoshop you can try using these Photoshop Polaroid Brushes from coolestbrushes.com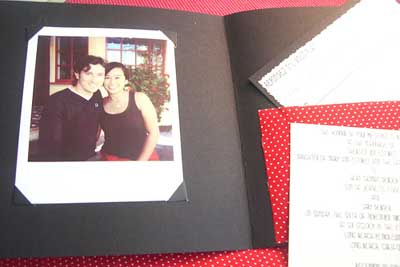 Each of the fabric rectangles for the pockets were cut using fabric sheers then mounted using spray mount. Only the edges were spray mounted to create "the pocket" Actually, no other glue was used besides spray mount. It was quite messy so I would recommend using a cardboard box to spray in to prevent damage to furniture. Also Goo Gone is awesome for getting rid of the sticky residue that's left on your fingers.
The inserts (wedding invite info)
The details of the wedding were printed on to nice paper then cut using fancy edged scissors. The rsvp's were cut with the same scissors then mounted on black paper (postcard size). I wanted to save on postage by creating rsvp postcards that each guest could send back.
Materials
I bought most of the paper from Kelly Paper. As for the envelopes, I think I bought them online. (It's been 3 years now!) I bought square envelopes but in hindsight I should have bought a rectangular envelope because it is more postage when you send square envelopes. The fabric was purchased from a local fabric shop. The lesson is that you should make enquiries about postage before you settle upon a size and design for your invitations.

Hope this helps you to make your own fabric wedding invitations! We love polaroid photos so we included one in our invitations, and added photo corners for a finishing touch.
Made By Joy deBoer
Long Beach, Ca