Make

Mermaid Invitations

Planning a beautiful childrens birthday party with merfolk and underwater themes. We'll explore a few ideas to set the theme for your magical celebration starting with ideas for homemade under the sea inviation.
Mermaid and under the sea invitation ideas
Head down to the beach and find some large sea shells. With a permanent marker, write down the party details directly on to the shell. Hand out the invitations to your guests. If you want to past them be sure to wrap them in bubble wrap so they remain intact. If you want you can buy the shells from a craft or hobby shop.

Cut your mermaid shaped invitations from white construction card and print the details onto it.

Make a message in a bottle.

Decorate your handmade invitation with 'the little mermaid' stickers.

Scatter a bit of sand in your envelope when you post your invites - this could get a little messy though.

Use clip art of fish and seaweed for an undersea adventure

Fill a clear balloon with a little bit of glitter or sand, small shells, little fishy charms. roll up the invitation, tie it up and slip it inside

Make a postcard or poster

Take a photo of the birthday girl (or boy) in their mermaid costume and create a photo invitation in photoshop elements or similar program.
Mermaid invitation wording
You're Invited
to a Magical Undersea
Birthday Party
Saturday, 15th June
12pm-3pm
Make sure you wear your finest
undersea apparel (or anything blue)
***
Mermaids and merboys
jellyfish and lobsters,
dolphins and sharks too.
Catch the next wave to Mermaid cove
to celebrate Little Mermaid Julia's
7th birthday
Mermaid bottle invitations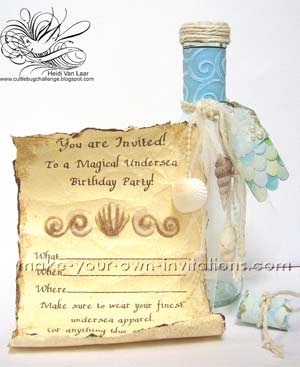 These invitations were made for an underwater / mermaid themed party
S

upplies

used to make invitations

:
Cardstock: Core'dinations

Embossing Folder: Swirls by Cuttlebug

Adhesive Pearls: Kaisercraft

Circle punch: EK Success

Font: Valley Forge

Other: Glass Bottle, craft sand, glitter, cotton cord, seashells, tulle, pearls strands
How they were put together
The bottle is about 7" tall and is actually a recycled mini wine bottle. It has a screw top, so I disguised that by wrapping cotton cord around the cap.
I added and embossed strip of cardstock to the neck and then further embellished with the fibers, pearls and shells. The final addition was the tag with the recipients name is on the reverse.

The invitation itself is about 5x7" and was created on the computer and then printed onto a parchment type paper, then I inked and distressed it within an inch of it's life. The finishing touch is a wrap made of cardstock and tied with cotton cord.
Hot tip: It is important to tie the invitation after it is rolled up so it can be easily removed from the bottle.

These are easily passed out by hand, but if mailing is necessary a mailing tube cut down to size works wonderfully!
Made by Heidi Van Lar
Return from Mermaid Invitations to see more ideas on how to make kids birthday invitations