Photo booth Signs, Wording and Resources
Just a few resources that you might find handy to use when making your own save the dates following a photobooth theme. If you have a resource to share then please let us know.
Free Printable Photo booth signs
Make your own signs or use one of ours. We have three free sets of signs that you can use for your save the date photobooth cards. Each set should be printed on to firm white card for the best results. Plain copy paper will do the trick too but the signs will be a little floppy.
This first set of signs is a simple straight forward set with three words Save The Date there are also two cute hearts (one in red and one in black) both with the word "the" contained within. You will need to write or print out the date yourself. The font that I used to create these save the date signs is Book Antiqua which you can get for free.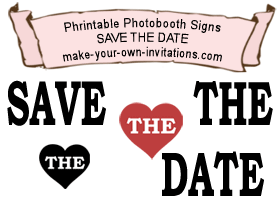 Download our plain save the date photobooth signs
This next set is a funky hand drawn set with each of the letters formed in a different style. Its a little more quirky and carefree. Again you will need to make up the actual date sign yourself. A hand drawn date should blend in well with these signs.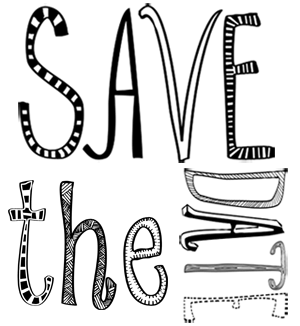 Download our flirty the date photobooth signs
This last set is a group of three speech bubbles. Marry me!, Yes! They are pretty straightforward to use. Simply cut out around each sign leaving a quarter inch white border. Hold up the appropriate sign for each photo. The last square for you photo should include the wedding date information including the when an the where.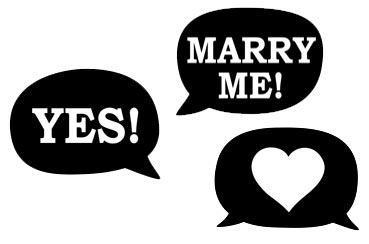 Download the speech bubble marry me signs
Photobooth brushes
If you use Adobe Photoshop or Photoshop elements then you can download these Photostrip brushes made in CS2. They have great texture and are free for your personal use.
Photobooth Wording Ideas
Some ideas for invitation wording to use on your save the date signs starting with the ever popular Save, The, Date, Wedding date
- We're, Finally, Getting, Married (this is good for a card that contains other wedding info)
- Marry me! Yes
- I do, I do too, Save the date, Date of wedding (+ location if you want)
- We're, Getting, Hitched, Wedding date + location + invitation to follow
- Save the date, Our Wedding, Location, Date
Return from Photo Booth signs + resources to make your photo booth save the date
More DIY Save the dates