Making Pirate Party Invitations
Planning a pirate birthday party. Ahoy there me Hearty. Sorry, too much listening to "The Wiggles" I can't get their song out of my head ;)
Pirate party invitation ideas
Make a treasure map invitation
Draw a map to your house on a piece of paper or parchment a treasure map invitation with an 'X marks the spot' for your house. write the party details in an empty spot on the map.
Message in a bottle invitation
Stranded on a birthday island? Age your diy invitations with tea and roll them up into a scroll and tie with some ribbon. Slip them into some small cheap bottles. A message in a bottle you can hand deliver to your party guests. How cool is that.
Age your invitations
Print your invitations or pirate treasure maps on to plain white paper from your computer. Make some strong black tea and dip your invites into into the tea and place them on to sheets of baking paper to dry. When they are nearly dry tear the edges of the invites to give them that weathered look. When they are completely dry take a lighter and carefully singe the edges. Take care not to set the whole thing alight.
Pirate invitation wording and phrases
Some pirate lingo and phrases that you might use on your invitations.
| | | | |
| --- | --- | --- | --- |
| Cap'n Jack | Captain Jack | shiver me timbers | |
| yaaaar | you | Arrrr | |
| ye, yer | you, your | Buccaneers | pirates - use it for 'kids' |
| Cutlass | sword | Booty | pirate loot |
| lad, lass | boy, girl | landlubber | someone who isnt a sailor |
| Carls Ghostly pirate ship | Carl's house | Come aboard | come on over |
| mate, matey | friend | Ahoy there | hello there, attention |
You can find more samples of pirate lingo here
Wording samples for a kids birthday invitation
Hey Matey,
Climb aboard for Captain Carl's 5th birthday
We set sail August 17 at 3pm
From Port Carls home
122 Ocean Rd
Crowsnest
Hope ye can come for a swashbuckling good time - or ye can walk the plank!

Avast/Ahoy Me Hearties

You arrr invited to a pirate birthday party
Captain Jack is turning 4

Jacks Ship
15 Barnacle Way

cake, ice cream and booty
Wear a costume or ye'll be walkin the plank

Be a mate and reply before the date
Pirate invite verses
yo ho ho and and a bottle of pop
it a pirates life for me
we'll search the islands for buried treasures
and sail the seven seas

The black pearl is setting sail
we need a seaworthy crew
to celebrate jonahs birthday
This pirate's turning two
Pirate quotes
I found this link to a pirate quote generator which gives you random pirate quotes. Might be a good source for some pirate inspiration. You can also find out your pirate name. (mine is Puffy Hugo Shirt)
Pirate themed fonts for cool wording
If you are creating your invitations with your computer then you will need some Good Pirate fonts to boot. There are plenty of free for personal use fonts that you can download for your invites. These include:
Remember these fonts are for personal use. Check the authors terms and conditions before you use them. If you need some images the Fantasy Clipart Font by GemFonts has great pirate clipart.
Homemade Pirate invitation examples
Click on any of the links below and be inspired by examples of home made pirate invites made by other readers who chose tomake their own unique pirate invitations.
Printable Pirate Party Invitations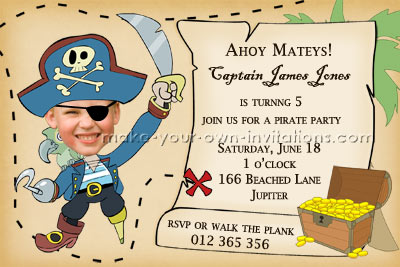 Custom pirate invite
for those who prefer to buy their pirate invites.
If your idea of making your own pirate invitations is printing them out on your home printer then we have just the solution for you. You can purchase one of our custom pirate birthday invitations and we will personalize it with your wording and a photo of the birthday boy or birthday girl.
We will send you the final invitation in either a 4"x6" or a 5"x7" .JPEG format. These two sizes are perfect for printing at your photo lab. You can print as many as you like for around 10 cents per invitaiton (super cheap) and the print and color quality of the final invites is great. If you have a color printer at home you can print them yourself onto firm white card.
Ahoy Matey Clipart Pirate Invitations
These pirate party invitations were made by Lindsay Rae. They made with her computer and some free pirate clipart downloaded from the internet and then printed.
Step One
With a word processing program create a full page layout (or you can create 2 invitations per layout which will allow you to print more invitations) Search the internet for pirate party clip art. "pirate clipart" to find some good images that you can use for your invites.
Lindsay Rae
Portsmouth, VA, USA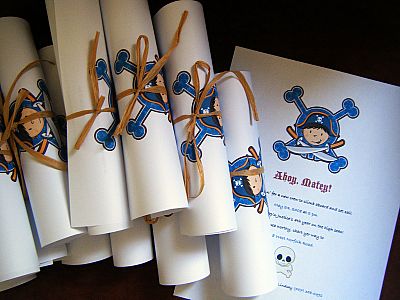 Captain Tanners 5th birthday party - message in a bottle
First I designed the 5x7 invites on my computer. I found this to be the right sized paper for the bottles and then I could print two on one sheet. I then printed out the invite on a laser printer on plain white paper so that the ink would not run when I stained them. I then stained the paper with strong black tea by soaking the paper in a thin cookie sheet for about 3-5 minutes. It all depends on how dark you want your paper. I also burnt the edges to give it the old torn look.
I purchased the bottle and sand from www.sandartsupplies.com. I also purchased small shells and red raffia from my local craft store. I put the sand in the bottle with a funnel and then added the shells. I then very tightly rolled the invites and tied a small piece of raffia around the invite to keep it tight to fit it in the top of the bottle hole. Sealed the bottle and delivered!
Notasha Mauzy
Lakeville, MN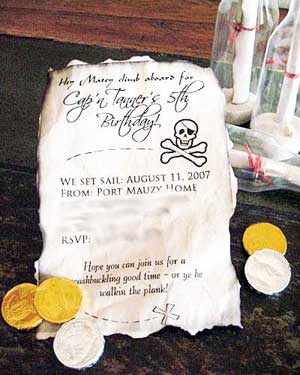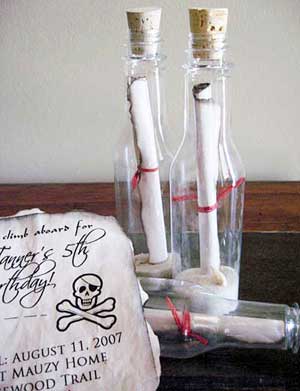 Message in a bottle invitation.
Pirate Invitation Cards
These invites were created by Marshan for her sons birthday party.
The images have been stamped onto white cardstock and colored. The edges have been ripped and inked to give it an aged effect.

The base card has also been stamped.

Each of the elements have been layered on to the card and the party info is on the inside of the card.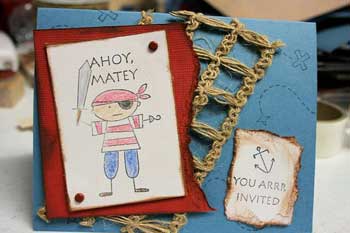 Made by Marshan
Cincinnati